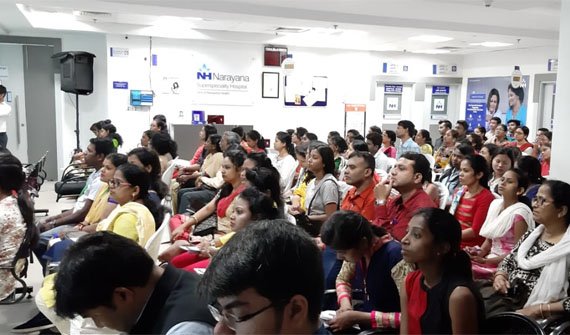 Kolkata, 1st April, 2019: Nursing is one of the most important pillars of patient care in any Hospital. To bring about more awareness and education in the Nurses regarding oncology, Narayana Superspeciality Hospital, Howrahand ICON trust collaborated together to organize a workshop on nursing care in oncology as a part of the 40thICON conference that was held at Narayana Superspeciality Hospital, Howrah. The event witnessed the presence of Dr. Vivek Agarwala and Dr. Chandrakanth MV, Medical Oncologists from Narayana Superspeciality and organizing secretaries of 40th ICON conference, along with Dr GS Bhattacharya, Senior Medical Oncologist and organizing chairman of the conference. The main conference was held from 29th March to 31st March at , a City Hotel.
ICON – Indian Co-operative Oncology Network is one of the oldest and most important societies, which is working towards excellence in oncology care in India. ICON organizes meetings every year involving oncologists around the country for a high level of scientific discussions and deliberations in oncology.
Dr. Vivek Agarwala, Medical Oncologist from Narayana Superspeciality Hospital, Howrah and one of the organizing secretaries said, "There are many specializations and superspeciality courses and trainings for doctors in our country butnursing education somewhat lacks importance, at least in quality if not in quantity. This initiative is to remove the gap in the lack of trained nurses for oncologic services in our country."
It was a day-long workshop with scientific lectures and discussions on wide range of topics including post-operative care of cancer patients after different cancer surgeries, role of nurses in radiotherapy, pain and palliative care, handling and care of peripherally inserted central venous lines, handling and administration of chemotherapeutic drugs, blood component transfusions as well as medicolegal aspects of care.
Dr. Chandrakanth MV, Medical Oncologists from Narayana Superspeciality Hospital Howrah and one of the organizing secretaries said, ""We, at Narayana Superspeciality Hospital Howrah, are focused on providing path-breaking cancer treatment to patients. We are very proud that Narayana Superspeciality Hospital and ICON have together taken a step towards this cause. I look forward to be a part of such initiative for our nursing staff.
The oncologic nursing careworkshop has received a lot of support with a good response from nurses all over the city and around 100 registrations. Nurses from outside Kolkata and neighboring states attended the sessions too. Furthermore, a well thought quiz was arranged in the workshop for the attending nurses to encourage interest with excitingprizes. These efforts received a wide range of appreciation from oncologists and nursing staff from various hospitals in Kolkata.
About Narayana Health:With all super-speciality tertiary care facilities that the medical world offers, Narayana Health is a one-stop healthcare destination for all. Founded by Dr. Devi Shetty and headquartered in Bengaluru, Narayana Health group is the second largest health care provider in the country in terms of operational bed count. The first facility was established with approximately 225 operational beds in 2000 at NH Health City in Bengaluru. The Company today, runs a chain of multispecialty, tertiary and primary healthcare facilities across India with a network of 24 hospitals and 7 heart centres and a single hospital overseas at Cayman Islands with over 6,200 operational beds across all its centres and potential to reach a capacity of around 7,300 beds.