Kolkata, 19th March, 2019, After completing three successful years in the city, Hoppipola, a relatively young brand from the basket of Speciality Restaurants Limited, India's largest chain of fine dining restaurants, launched their third outlet today in the IT hub of Sector V, Salt Lake. The outlet was launched by glamorous actress Sauraseni Maitraalong with Mr. Anjan Chatterjee, Founder & MD, Speciality Restaurants Ltd. Foodies of the city will now get to enjoy three times more hoppiness with this new hangout zone.
Hoppipola has been a revelation for young diners for whom the experience has to be much more fun than just dining all day. Literally meaning 'jumping in puddles' in Icelandic, Hoppipola is an embodiment that one doesn't need to be young to have fun. The philosophy behind Hoppipola is making one happy, a place that doesn't believe tradition means rules and so it's uniquely positioned as a place where you Eat, Drink, Play thus creating a differentiator for itself amongst all wet-led formats.
The 127 seater restaurant is spread across an area of 4057 sq. feet area and has distinctive interiors with vibrant colored furnishings and quirky wall art. This new outlet however has been thoughtfully created keeping in mind that it will attract a little matured target audience which could be more of young IT professionals. Besides the usual board games and foosball table, the restaurant has a play area that features six new challenging wall games that make drinking even more fun. There's Darts and Dares, The Drinking Wheel, Wall Beer Pong, Basket ball, Wall Maze and Ring throw. This outlet will also be the only Hoppipola in the country to have a PDR or private dining area. It also has a large smoking room well equipped with tables and chairs along with a carom board. Neon signage on the wall adds to the young vibe of the place.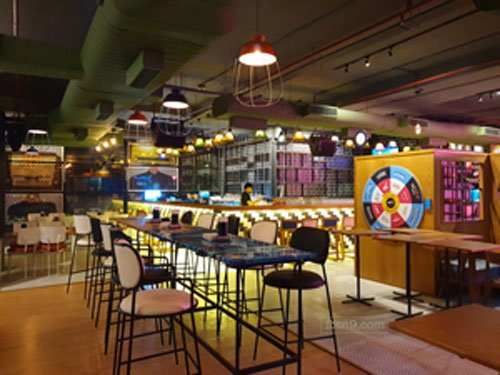 The food at Hoppipola is all about comfort and the menu has been revamped with some new additions to the old favorites. Delectable finger food along with sumptuous, heart warming meals inspired by global and indigenous flavours make up the menu. While one can grab Hoppipola classics like Ooey Gooey fries, Jerk Chicken Pizza, some new additions include Hoppi Fried Chicken Tikka, Cheesling Jhal Muri, Truffle Mushroom Galouti, Thai Curry hummus and healthy options such as Millet in a skillet Salad.The bar menu has a variety of cocktails and mocktails both old and new. An exclusive shots menu featuring 24 different varieties of shots is one of the additions. One can also be their own bartender with DIY cocktail buckets.
Speaking on the occasion, Mr. Anjan Chatterjee, Founder & MD, Speciality Restaurants Ltd, said, "The people here have given us so much love that we have been able to make our presence felt in every corner of the city. We have reinvented ourselves with this outlet and made a few tweaks to offer an even better experience. We hope that this Hoppipola will be able to make our patrons happier."
At Hoppipola there's room for everyone to be happy — the loud ones, the quiet ones, the giggly ones, the crying ones, the sighing ones, the huffing ones and the puffing ones, the lonely ones, the ones in love, the boardroom to 'barroom' ones, the bookworms, the gamers, the drinkers, the claimers, the ones that hate leaving home and the ones that haven't seen home in a while. The ambience turns the boring everyday on its head, using design elements in a unique way without being too obtrusive. This is a place where one can catch up with that part of themselves that refuses to grow up.
The restaurant is located at Infinity Benchmark, Ist floor, GP Block, Sector V, Salt Lake City, Kolkata-700091 (opp RDB cinema) and will be open from 12.30 pm to 11 pm and the food is comfortably priced at Rs 1200 plus taxes for two including alcohol.