NIP NGO (National Institute of Professionals), an organization that runs computer training centre for the Blinds came up with this unique innovative initiative to organize'Differently Abled and Senior Citizen Friendly Durgotsab Awards' for the year 2015. In this connection a Panel Discussion on "Is This Durga Puja Differently Able & Senior Citizen Friendly?"held at Nehru Children's Museum in association with Office of the Commissioner of Disabilities, Dept. of Social Welfare, Govt. of West Bengal; Forum For Durgotsab.
The event was graced by the presence of theme makers like Sri Amar Sarkar, Sri Prasanta Pal of the different puja pandals as they will think to make the pandals disable & senior citizen friendly. The Hon'ble Vice-President of Forum for Durgotsab Mr. Partha Ghosh who is the organizer of"Shibmandir" puja alongwith many others.
Different other Puja Committees under the Forum for Durgotsab like  Chetla Agrani, Bangur Avenue Pratirodh Bahini, Bhowanipore Swadhin Sangha, Shibmandir & others was present to state that the view of their own for the arrangements of puja pandals to make the pandals differently able and senior citizen friendly.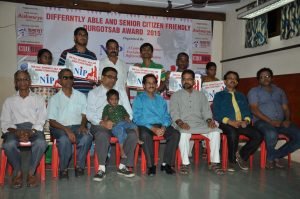 Generally, Puja awards are judged on the parameters of glamour, splendour, artwork and visual gimmicks. But now the criterion will be different as it will also be judged on the grounds of facilities they offer to the physically challenged and senior citizens. The basic requirement includes some volunteers to help them a few wheelchairs and ramps at the entry and exit that would help to stroll with ease. Besides, presence of special entry or opening of VIP entrance & exit points and emergency management facilities will also be considered.
Speaking about the event, MR. DEBAJYOTI ROY, Secretary, NIP NGO said "At the beginning of this Puja season, when everybody desires go with the impeccable mood of celebrations, we have decided to devote ourselves to support a unique fight for humanity, right & equality to enthral our social commitment. It's not only an event. It's not only an award ceremony or launch. Rather, it's a journey with a cordial promise to make a better society."
Pandal-hopping and viewing the differently decorated deities will not be a far-fetched dream for the differently-abled & senior citizens now and they will be able to visit the crowded pandals. NIP had started its journey with this "Differently Abled & Senior Citizen Friendly Durgotsab Award" since 2010 and this year the puja award would take place in Kolkata and as many as 230 Durga Puja Committees are participating in this race. The judges of the pandals would also comprise Differently-Abled Persons & Senior Citizens along with some volunteers at their service.