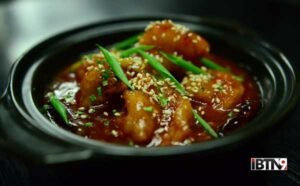 Bengalis are known to be adventurous and what better way to enjoy Durga Puja than setting  off beyond the Great Wall of China than whetting your palette at Chilli Wok seated smug on the second floor of MYX off Park Street on Middleton Row.
Chilli Wok will rustle up a Chinese Buffet spread showcasing the best of authentic Chinese delicacies, to appease the high-priests of fine food on all days from October 19 to 23. So take a stroll down the heritage lane as you start your meal with refreshing welcome drinks and dig in on Prawn Pepper Garlic, Eight Treasure Chicken Soup, Cottage Cheese Hunan and Prawn Celery and Garlic Rice. Close the meal on a sweet note with Assorted Pastry or Gateaux, Darsaan, Mousse and Coconut Pudding. Prepared for a cherished Puja, which will keep you asking for more and it just can't get more authentic.
The Buffet spread will be priced at only Rs. 699.