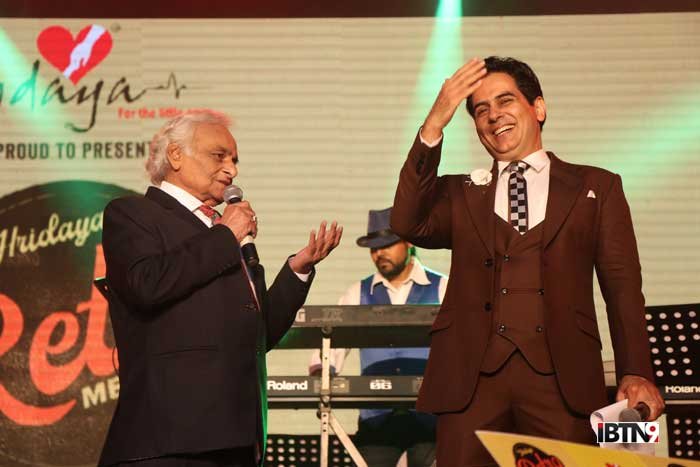 Rotary Club of Calcutta Old City  in association with Rabindranath Tagore International Institute of Cardiac Sciences hosted "HRIDAYA RETRO MELODIES" a grand celebration of music of legendary musical duo Laxmikant-Pyarelal and Kalyan ji-Anand ji on 26 August,2018  at Nazrul Manch. It was a time to look back, celebrate those eras when melody was queen. The musical journey was more enjoyable as  living legend Anandji himself  shared anecdotes revolving all those ageless melodies  they created. He  came to the city of joy after hope 86 for any music concert. Singers like  Sreeradha Bandyopadhyay,  Raghab Chatterjee, Shampa Kundu, Subhankar Bhaskar, Adrija, Shovon, Saptak, Trisha, Gaurab, Madhura performed those eternal melodies. Undoubtedly it was a treat to real melody buffs.
Kalyanji-Anandji the musical duo offered numerous musical hits like Chandan Sa Badan( Saraswatichandra), Zindagi Ka Safar ( Safar), Rote Huye Ate Hai Sab ( Muqaddar Ka Sikandar ), Khai Ke Paan Banaras Wala & Yeh Mere Dil ( Don ), Yaari Hai Iman Mera ( Zanjeer ), Laila O Laila ( Quarbani ),Mera Jeevan Kora Kagaz ( Kora Kagaz ),O Mere Raja & Pal Bhar Ke liye Koi Hame Pyar Kar Le ( Johny Mera Naam ), Apni To Jaise taise ( Lawaris ), Tirchhi Topi wale ( Tridev ) and so on. They got their first national award for Saraswatichandra (1968 ), Padmashree ( 1992 ), Filmfare Award for Kora Kagaz (1974).
Ek Pyaar Ka Nagma (Adrija ), Parda Hai Parda ( Gourab ), Om Shanti Om ( Shovon ),  Ruk Jaana Nahin ( Saptak, Gourab, Shovon ), O Saathi Re ( Saptak ),  Yaari Hai Imaan ( Subhankar Bhaskar ),  Ye Pehli Pyaar Ki Khushboo, Hum the jinke sahare, Pal Pal Dil Ke Pas ( Sriradha Banerjee  ),  Mere Mehboob Qayamat, Main Shayar To Nahin ( Raghab Chatterjee  ) are worth a mention from the evening.
'HRIDAYA' a project for the treatment of children with Heart Ailments, in association
with Rabindranath Tagore International Institute of Cardiac Sciences (Unit of Narayana
Hrudalaya). It is Rotary Club of Calcutta Old City, a club 27 years old along with Dr. Biswajit
Bandyopadhyay of Rabindranath Tagore International Institute of Cardiac Sciences who has been associated with them since inception and under whose care these children have got second life, have worked together to fund-raise for this flagship project.
Malnutrition is a very common problem in children with symptomatic CHD. 78,000 infants & children, die of congenital heart diseases in India every year, which is nearly 15.1% of new born babies every year.
Their past initiative has yielded great response and would like to point a few. They had started their fundraising back in 28th may 2017 with a musical night where celebrities like Anindya Chatterjee,Haimanti Sukla, Rituparna Sengupta, Jojo, Anweshaa, Aditi Munshi and others have endorsed their support for the fundraising. The second successful initiative was a treasure hunt car rally on the 21st Jan 2018 at Ordinance club where people from the Army, celebrities, and business houses had lend their support immensely.It is great  that 32 children with congenital heart diseases have already been successfully operated upon with the help of this fund and are now on the road to recovery. They are expecting that they  would be able to raise fund for another 50 children.
'HRIDAYA RETRO MELODIES', was aimed at stoking nostalgia among patrons and fans,
along with creating interest among the younger generation about the music their parents and elders grew up with. The event was featured various artists of SA RE GA MA PA fame, along with many other well-known voices of our time, crooning retro hits from BOLLYWOOD. The highlight of the evening was a LIFETIME ACHIEVEMENT AWARD, which was awarded to MR ANANDJI VIRJI SHAH, of KALYANJI-ANANDJI fame. MR ANANDJI VIRJI SHAH even shared many untold stories during each song which  filled with nostalgia, bringing back the memories of these great hits. We  learnt about how the songs were composed, stories that led to the making of the songs and many humorous instances that would enthrall the audience. MR AMAN VERMA, was the master-of-ceremonies, at the event, ensuring a crowd connect of massive proportions.