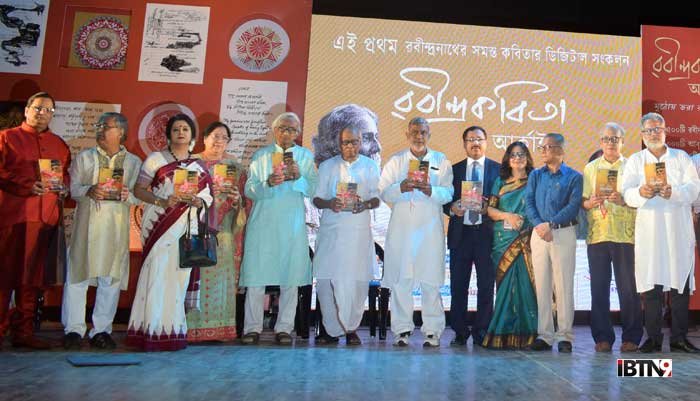 First time in history all poems of Rabindranath Tagore have been digitally compiled in one platform with recitations and all necessary information.Rabindranath has written about 2000 songs, most of which are known to us. But his wonderful poems have not fully explored till now. We roam within his 100 to 150 poems. Even we are not sure about the total number of his poems.Dr. Purnendu Bikash Sarkar, an Ophthalmologist by profession, after long 5 years research and labor, collected and digitally compiled all poems of Tagore in interactive Software named Rabindra Kobita Archive.Earlies in the year 2006 Dr. Sarkar presented us another gigantic  work on Tagore's songs. His researches compilation Gitabitan Archive contains 4870 Rabindra Sangeet in the voice of 310 artistes, with printable notation and all information about every Rabindra Sangeet. Gitabitan Archive has been highly appreciated by all as a valuable asset of Tagore's songs and a true Collector's ltem.
In presence of Eminent personalities like Sri Sankha Ghosh, Smt Sabujkoli Sen, VC Visva Bharati, Sri Debasish Kumar, Mayor-in-Council, Eminent elocutionist Sri Pradip Ghosh, Smt Bratati Bandyopadhyay,Sri Shimul Mustafa, (Bangladesh),Sri Subodh Sarkar,Chairman Kobita Academy,Smt Shyama Rahaman (Bangladesh),the Rabindra Kobita Archive  was launched  at Rabindra Sadan. It was followed by a short live demonstration ofRabindra Kobita Archive by its Compiler Dr. Purnendu Bikash Sarkar and then there was a Cultural Programme  by the artistes of Kolkata and Bangladesh like Bijoylaxmi Barman, Bratati Bandyopadhyay, Subodh Sarkar, Pranati Tagore, Ratna Mitra,Sumantra Sengupta, Satyam Raychowdhury, Pramita Mullick, Shovonsundar Basu,Shimul Musfata,Barnali Sarkar. Songs by Shyama Rahman, Aditi Gupta and so on.
Rabindra Kobita Archive contains
·         3500 Poems of Tagore from his 57 Anthologies
·         5000 recitations and 110 Rabindra Sangeet.
·         245 eminent artistes.
·         103 English recitations from Song Offerings.
·         15 recitations by Tagore himself.
·         All information about every poem.
Main features of Rabindra Kobita Archive
·         Lyric and Recitation of all poems written by Rabindranath Recitation of every poem by multiple artistes
·         Search any poem with its all information within a blink.
·         110 Rabindra Sangeet transformed   from his poems.
·         60 most popular poem's separate gallery.
·         lnformation about all anthologies including Songs Offerings Search by Artist, Book, Tagore's age, Place etc.
Why people will be interested about Rabindra Kobita Archive
  For entertainment
  To learn and practice recitation
·  For academic purpose
   To become an elocutionist.
·  To prepare script & lectures.
·   To understand Tagore'sphilosophy
·    For Gen-X to know Rabindranath Tagore