If you are in Kolkata in the month of October, the sound of 'dhaak' and the smell of  'dhuno' sums up to the arrival of Maa Durga. With all the puja shopping, food and adda all we can ask for is good movies. This year we have a hand pick list for all the movie lovers out there. Not just for Hollywood movie viewers but also for Bollywood and Tollywood film viewers.
Starting with Hollywood, the list is quite big and all the movies on the list have quite the best story and trailers. Have a look:
#1. "Venom"
The upcoming Marvel villain movie is directed by Ruben Fleischer and is produced by Sony Pictures, Columbia Pictures, Marvel Entertainment and Pascal Pictures. It is totally an'No Hero Movie' and is releasing on 5th So buckle up for the greatest Spider-Man Villain as it is getting its own movie. And all we can expect is lots and lots of thrilling violence and blood.
---
#2. "Bad Times At The El Royale"
The upcoming crime-mystery-thriller film is written and directed by Drew Goddard and produced by 20th Century Fox. The movie starring Chris Hemsworth is all set to release on 4th October 2018.The pace in the trailer changed and made it quite intriguing .
---
#3. "First Man"
Oscar winning director, Damien Chazelle is back with another movie, 'First Man', starring Ryan Gosling and expectations are way too high. The movie is based on the book by James R Hansen. The plot revolves on the NASA mission to land the first man, Neil Armstrong on the moon. The movie is produced by Universal Pictures , Dream Works Studios and many more and is releasing on 12th October, 2018.
---
#4. "Can You Ever Forgive Me?"
The movie is based on Lee Israel, bestseller celebrity biographer and her way of making a living in the 1970s and 80s. The movie is directed by Marielle Heller and produced by Archer Gray Productions and is expected to release on 19th October, 2018. The star, Melissa Mc. Carther looks fantastic in a dramatic role after all the comedy roles previously.
---
#5. "Halloween"
The upcoming movie is directed by David Gorden Green and produced by Trancas International Films, Blumhouse Productions, Miramax, Rough House Production. The violence, psychopathic stalking and murder is back with 'Halloween ' and will be released on 26th October, 2018.
---
Moving to Bollywood movies, the only two movies which is so far expected to be released in  October are :
#1. "Namaste England"
It is an upcoming rom-com movie coproduced and directed by Vipul Amrutlal Shah and is distributed by Reliance Entertainment. The star faces, Arjun Kapoor and Parineeti Chopra have caught our attention through the poster released. After 'Ishaquezadde' this is there second film together.
---
#2. "Loveyatri"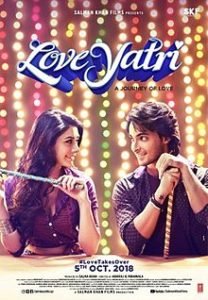 The movie is a romantic drama produced by Salman Khan under the banner of Salman Khan Films and directed by Abhiraj Minawal. The movie will be released on 5th October 2018. A recent trailer was released online.
---
Lastly Tollywood, it's a small list but these two films are on my personal watch list. Here it goes:
#1. "Byomkesh Gotro"
When a Bengali think about detective series the first two name are always of Feluda and Byomkesh and this puja, Byomkesh Gotro is going to hit the floor on 12th October,2018 , directed by Arindam Sil and produced by SVF Entertainment. It is based on the story – 'Rakter Dag' and we will see Abir Chatterjee as Byomkesh. It is a detective film and no doubt the movie is going to impress all the audiences as usual.
---
#2. "Ek Je Chhilo Raja"
Ek Je Chhilo Raja : The movie is directed by Srijit Mukherjee and produced by SVF Entertainment. The movie is expected to release on October 2018 but the date is yet not revealed. The plot of the movie is on a well-known Bhawal case and is an upcoming masterpiece starring Jisshu Sengupta. The look of Jisshu Sengupta in this movie has already become the talk of the town.
So, with a lot of pandal hopping and eating fast foods, dont forget to miss out on these amazing movies.