July 20, 2018 : The Parkview Superspecialty Hospital at Salt Lake, Sector III, was inaugurated by Bidhannagar's Hon'ble Mayor, Shri Sabyasachi Dutta and Guest of Honor, the councilor of Bidhannagar Shri Debashish Jana. Parkview Superspecialty Hospital is the brainchild of City's veteran Bariatric Surgeon, Dr. Vishnu Kumar Bhartia. It is Eastern India's first ever hospital to be run by a family of doctors – Dr. Vishnu Kumar Bhartia who's a veteran Bariatric Surgeon, Dr. Shilpa Bhartia who's a Haemato – oncologist and Dr. Abhishek Bhartia who's a Laparoscopic Surgeon. It is also Eastern India's only centre for blood disorder and specializes in Hematology and treatment of all blood disorders. Apart from Hematology, Parkview specializes in Bariatric and advanced Laparoscopic surgery and is a comprehensive one stop destination for diabetes and Obesity treatment and offers surgical packages at affordable prices. By being Eastern India's first ever hospital to be run by a family of doctors their motto is "The family that cares for your family ". They share a vision which is to ensure the best utilization of research based medical advancements in the most cost effective manner; this vision is followed up by a mission which is to provide specialized services with dedication beyond imagination.
To further explain the specialties of Parkview Hospital, Dr. Shilpa Bhartia, Haemato – Oncologist, put forward the notions and aspects of Hematology, Met oncology and Bone-Marrow Transplant. According to her, Hematology is a complex subject with deals with various aspects of blood disorders, such as Hemophobia, Thalassemia; it can vary from simple problems such as anemia to complex cancers such as Leukemia, Lymphoma and Myeloma.
A recent national health survey has shown that 75% of our national population, mainly ladies and children are anemic and thus are been given iron tablets which is right as the most common cause of anemia is iron deficiency, but what she feels that it is important to find out the reason behind the iron deficiency and treat the reason rather than treating the iron deficiency alone, it can be nutritional it may be other reasons so they at Parkview Hospital are going to develop a fast- track anemia clinic which is going to be a one stop single day diagnostic as well as treatment day for treatment of all types of anemia. The aim is to reduce unnecessary blood transfusions because blood transfusions has its own risks and many anemias even if they are very severe can be treated without blood transfusion, thus that clinic is going to focus on people suffering from anemia.
The other aspect of Hematology which is almost untouched or not elaborated on is patients with clotting disorders, when the blood is too thick and it clots without a reason, these clots can be very dangerous as these clots have the potential to kill people without warning so they are developing a clinic where all tests can be done in one centre and as they always have to send people out of the city to get these specialized tests done, but that's not going to happen here as the clinic is going to be a comprehensive Hemostasis and Prognosis centre and they have also collaborated with doctors in London who are going to provide them with a joined clinic service at their centre.
Finally last but not the least she spoke about the Leukemia which is one of the most dreaded cancers, people dreaded even by its name itself, the childhood form of Leukemia is curable, 90 to 95% of children with Leukemia can be cured unfortunately there is a small proportion of people who cannot afford the treatment's cost and it's their commitment to treat all these children with the help of their charity trust known as R.P. Bhartia Leukemia Foundation and other trusts which will help them to raise funds for the treatment of all those children who cannot afford the cost of their treatment.
While Dr. Shilpa Bhartia spoke on matters of Hematology, to explain matters concerning the treatment of Diabetes and Obesity disorders along with the structure of the hospital and the surgical packages offered by the hospital came forth the Director of Parkview Superspecialty Hospital Dr. Vishnu Kumar Bhartia who is also a veteran Bariatric surgeon. He started by thanking his friends and family and also the project team whose collaborated effort helped completing it in only 3 years. He also thanked their Chief Guest, Honorable Mayor of Bidhannagar, Shri Sabyasachi Dutta for the unflinching support he provided.
After the thanksgiving he proceeded to explain the structural composition of the hospital. He said that the hospital is a 70 bedded hospital, equipped with the latest technology and machinery combined with group of skilled healthcare professional to provide integrated healthcare solutions and world class service toits patients. It specializes in matters of Bariatric treatment, Hematology and Laparoscopic surgeries. Also it has a separate Bone Marrow Transplant unit where every bit of air and water is ultra filtered to prevent the patient from getting infected and thus this hospital is a super specialized hospital as such facilities are not provided by many hospitals.
He continued saying, India is the Diabetic Capital of World by having the maximum number of diabetic people, and there are very few centers in Calcutta who cater for comprehensive treatment for diabetes. Comprehensive treatment of Diabetes means to treat it medically by giving proper medical advice, by giving proper homecare and also treating diabetes surgically which is something most of the people are oblivious to, that the diabetes can be cured by surgical means, and this type of surgery is known as Bariatric Surgery or Metabolic Surgery, this surgery reduces ones weight and thereby permanently curing their diabetes. He states this surgery is something both he and the hospital specializes upon and thus they are going to take a comprehensive diabetes treatment either medical or surgical whichever way is required for the particular patient. Apart from this they have also facilities for medicine, Orthopedics, Joint Replacement, ENT, Gynecology, Urology among others.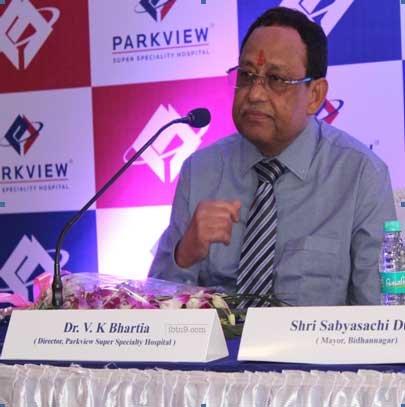 Finally he proceeded by explaining the surgical packages, he said that free treatments are impossible for everyone even for the government itself, however he on behalf of Parkview Hospital he said that they will provide the treatment at the fraction of the cost compared to the costs of other corporate hospitals, he continued stating that they will provide treatment to all sections of the society. He repeatedly stated that it will be their effort that no patient would have to leave the hospital without getting proper treatment if financially or otherwise. He also stated that they will help the financially disabled people with their treatment by their charity trust known as R.P. Bhartia Leukemia Foundation.
Report by Anobik Paul