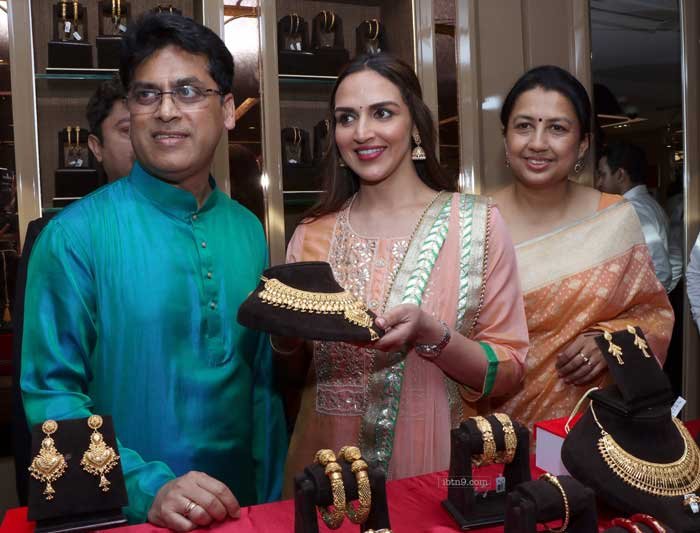 Jewellery is like the perfect spice. It always complements what is already there and like it always tell a story about the person who is wearing it. With an exclusive line of high fashion gold jewellery aims for the wedding look of the season the organization Shyam Sundar Co. Jewellers, one of the most reputated jewellery house promoting heritage and culture unveiled their exclusive "Shubh Vivah Collection" at their 131 A Rashbehari Avenue showroom. The latest collections was unveiled by the glamorous Bollywood diva Esha Deol along with the director of the upcoming film "CAKEWALK" Ramkamal Mukherjee and the directors of Shyam Sundar Co. Jewellers Shri Rupak Saha and Smt. Arpita Saha.
Talking to the director of the organization Rupak Saha said "Wedding is a special day for a women and she dreams about this day for years . To make her look beautiful and to make jewelleries which are suitable for her is our responsibility as in this modern age all young women are smart thinkers and wear smart attires we try to make jewelleries which looks modern and carries the tradition and also give special attention to the quality and designing aspect. You can wear our designs at your wedding day and even at parties and this collections will be available in all our stores that is four stores at Tripura and three stores at Kolkata and our collections are not limited to women we too have collections for men and with that I want to add it is not necessary if a man wear gold jwelleries he will look feminine if he choose the right jewellery he can look manly and handsome and I hope that our collections will fulfill all your desires and will make your special day memorable."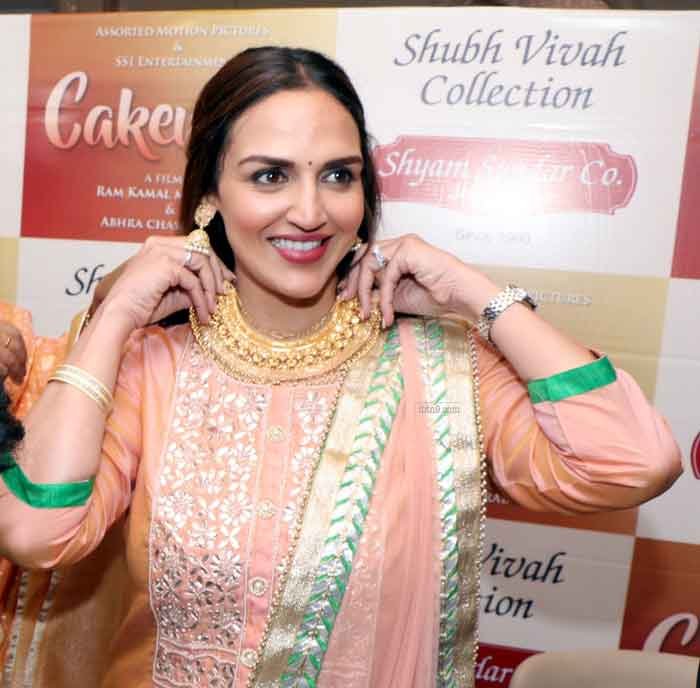 SHUBH VIVAH the seasons collection for the Bride and Groom consist of full set with necklaces, earrings, mantasa, bangles, finger ring, shakha, pala, ratan chur both in light and heavy weight and for the groom it consists of neck chain, wrist chain, bracelet, kada, kurta buttons, belt buckle, cuff link and so on. The range of this collections starts from RS 8,000 for light weight collections and RS 20,000 for heavy weight collections. This collections is for sure worth the price and consist of every types of jewelleries every bride should look for.
The launch was followed by the poster launch of the short film "CAKEWALK" by its lead actress Esha Deol and the director of the film Ramkamal Mukherjee. The actress talk about her upcoming film and also reveals about her new project where she plays the role of Sita she said "The film call Cakewalk is a very nice short feature film and the script of the film is what attracted me towards it and Ramkamal is a dear friend of me he wanted to do something creative together with me and it came into my life at that time were I could devote certain amount of time and the beauty of short film is the whole story is told in 22 minutes also it fits with my schedule perfectly it created me and satisfy me at the same time." A warm welcome to the star.
"Shubh Vivah Collections is a beautiful collection for all the brides in the film. I play the role of a Bengali bride and the jewellery fitted beautifully because I always want to play a Bengali bride and the jewellery complimented my look and once you see the poster the whole look has come across very well." said Esha Deol .
Report by Atrayee Basu