Kolkata, July 12: The luxury boutique hotel Auris, located at 4, Robison Street, has launched a delicious unique festival called "3C – Chocolate. Cheese. Coffee." at its well known patisserie, Scarlet. In the presence of Tollywood actress Parno Mittra. Executive chef Mr. Sujit Mondal has prepared an innovative dessert menu keeping in mind that today's experimental audience is ready to try new combinations of their favourite delicacies.
Talking about his inspiration, Chef Mondal said, "We all love chocolate, cheese and coffee. Think of anything sinfully indulgent and you will think of chocolate and cheese. I want to play with these ingredients and create something refreshing yet to taste that would make go everyone wow. The focus of Scarlet at the moment is all about delivering the most elevated valuable patisserie experience to the guest".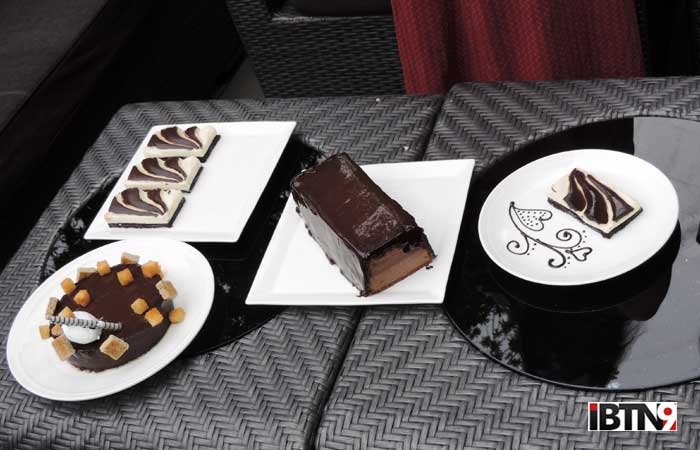 At the 3C festival, chef Mondal with his ideation, passion and implementation in perfect balance has blended subtle flavours and richness of the ingredient for a smooth gastronomic experience. The desserts are distinctive, beautifully crafted and are completely different from each other. For example, Cheesecake Brownie that will give you a sinful indulgence into chocolate rich brownie with Godiva chocolate fudge filling and Philadelphia cheese bake to add glaze. Everyone knows about the Little Black Dress. Now meet the Little Black Dress Chocolate Cake that is as good to look at as it is good to taste. How about coffee and cheese cake together? Try the Decadent Espresso Café Cheese Cake. There are other attractions on the menu too like…. Banoffe cheese cake, Mad for mud, intense trio of choco mousse and many more for their dessert lovers.
Available from July 15 to August 15, the 3C Festival will come to a pocket pinch of INR 350 plus taxes for one person.