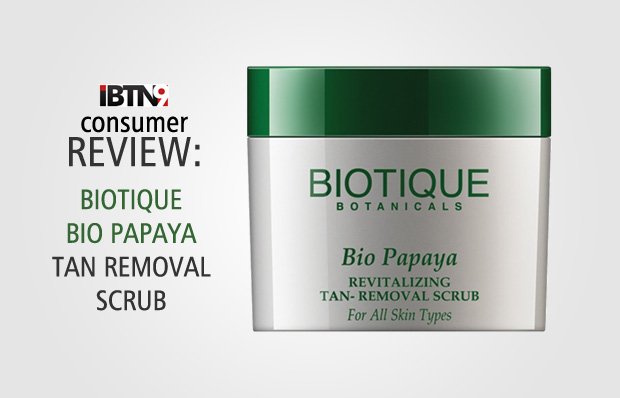 One of the most popular products from Biotique is their Bio Papaya tan removal scrub and after using it for a while I can tell you why.
The climate of India is predominantly hot and tanning is very common. Getting rid of this tanning, especially during summers is a big task for people like me who are prone to it very easily, that is where this scrub comes in.
It's a creamy green coloured scrub with small granules to scrub away the dead skin cells. There is no fragrance to it. The granules are not too small or too big, just perfect for regular exfoliation. The scrub uses raw green papaya which has enzymes that can scrub away the dead skin cells easily and give a clear complexion.
With regular use of this you will see tan fading away and any new blemishes fading away. This is without a doubt one of the best facial scrubs out there.
The best part is it will suit every skin type even sensitive type like mine.
THE FINAL VERDICT
The scrub is creamy and has lots of granules so you need a little amount to cover the whole face, what I like to do is leave it for 30 seconds to a minute for the enzyme in the papaya to loosen up the dead skin and then scrub away the dirt and tan. Since papaya enzyme  is  strong  a little tingling is felt, but that goes away soon and is actually a good sign that the scrub is working on the skin.
The best part about Biotique for me is that it is not a cosmetic brand but a natural ayurvedic one. It has no chemicals or preservatives which is a big bonus and since the product retails at Rs. 199 for 75 gms, It's a must have for every girl as it does do what it claims.
Pros:
Removes tan
Is very budget friendly
A little goes a long way
Will suit every skin type
Easily available.
Natural product free from any chemicals.
Cons:
Absolutely none. This is why I will highly recommend this to everyone. Once you start using this you will not go back to anything else. It is a quality product in budget.
Click on the link below to shop:
Biotique Bio Papaya Revitalizing Tan-Removal Scrub for All Skin Types, 75g
EFFECTIVENESS - 8
VALUE FOR MONEY - 9
PACKAGING - 7
QUALITY - 9
TRAVEL FRIENDLY - 7
8
A Quality Product
A highly recommended natural product within budget for all skin types.