The sixth edition of FIREFLIES FASHION AND LIFESTYLE EXHIBITION 2016 was held at Taj Bengal recently and brought the glitter and glamour of Kolkata to a whole new high!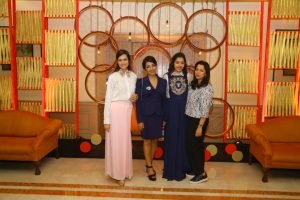 After consecutive years of success Shillpi Goel, Priti Agarwal, Saloni Bhalotia and Sneha Tapadiya were once again back with a bang with the 6th edition of Fireflies. With 70 participants in its newest edition, Fireflies was a treasure trove for everyone with a range that spanned from ethnic Indian to international attires, from casuals to chic and trendy bridal wears and an array of crème-de-la-crème when it comes to haute couture fashion in terms of accessories, garments, home decor and lifestyle products.
From the glamorous Rituparna Sengupta, the elegant Gargee RoyChowdhury and the vivacious Koneenica, Fireflies saw a host of celebrities gracing the exhibition throughout the Day.
The participants too recognised their support by giving them small tokens off appreciation. Other stars at the venue included actor Hiran, veteran designer Sarbari Datta, Ushoshie Sengupta, Suchandra Vaaniya , Agnimitra Paul, Sayani Datta, Payal Sarkar, Arjun Chakravorty, Bickram Ghosh and Jaya Seal, Shreya Pandey, Debaleena Dutta, Sohaag Sen, cricketer Ranadeb Bose, Jessica Gomes, Mohua Chatterjee, Rita Bhimani and Console General Italian Consulate Damiano Francovigh.
Some of the highlights this year included Vivacious, Toxic, Cinderella, Satwika, Anindita's, Amit Nidhi, Crimson, Radical, The Royal Trunk, Neha Singh, Farheen Rahman, Shipra Karnani, Duet Luxury, Pink Pastures, Dressy Owl, Doodlage, Desi girls, Dareaab by Sonia. K. Mahajan and Lotus sutr by Karishma Jamwal among others.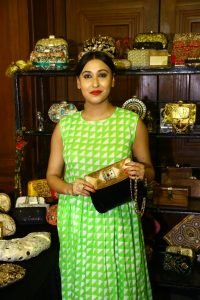 Fireflies is an organization which brings fresh aspiring talent in the world of creativity and also facilitate accessibility to established names in the field of fashion and lifestyle. This unique creative platform is headed by Sneha Tapadiya, Saloni Bhalotia, Priti Agarwal and Shillpi Goel. A hunger for creativity and perfectionism in the field of fashion and lifestyle brings the four ladies together presenting different products under one roof aiming to create a niche in the world of fashion and lifestyle and ensure the best shopping experience.
Speaking about this year's edition, Priti Agarwal said, "Our aim has always been to create a new fashion trend in the city and to promote new designs and faces and in the process provide them with a platform. This year we have a lot of expectations from the exhibitors. People are coming to showcase their products from all over India including Jalandhar and Bikaner as well as from overseas. None of the stalls are similar everything has its own flavour and are different in their own way. The beauty of Fireflies lies in its exclusivity. It is not a commercial enterprise that keeps on popping after every few days, but rather an experience that happens only once in a year."