Pro Kabaddi Season 2: Tournament Awards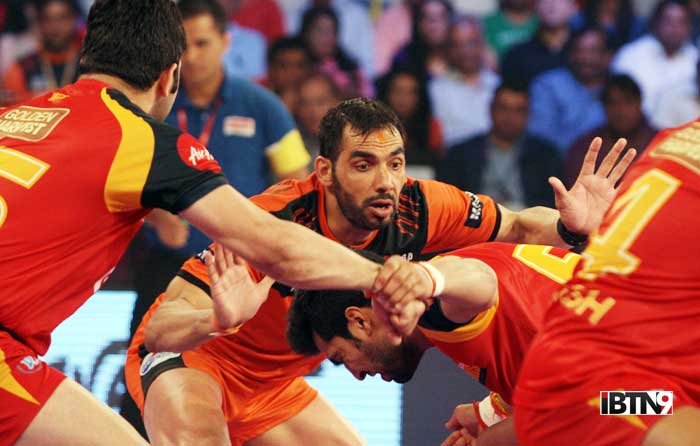 D.A.E. RISING STAR OF STAR SPORTS PRO KABADDI SEASON 2
 – SANDEEP (TELUGU TITANS)
The youngster of the young team of Star Sports Pro Kabaddi, Sandeep has adapted to the big stage of Indian kabaddi like a fish to water. In a team that operates with an aggressive approach, Sandeep's ankle holds have given the freedom to attack to the Titans' star raider in Rahul Chaudhari and Meraj Sheykh. The lanky lad has a death grip which is his go-to move to detain raiders and his long legs give him the grip to contain dangerous opposition raiders. With 55 successful tackles, Sandeep proves the adage of youthful enthusiasm over experience and is sure to be part of India's bright kabaddi future.
STAR SPORTS RAIDER OF THE TOURNAMENT – KASHILING ADAKE (DABANG DELHI)
Kashiling Adake lit up Season 2 of Star Sports Pro Kabaddi unlike any other raider in the tournament finishing the tournament with 114 points. His classic manoeuvre was the 'touch and roll' which he employed to full use especially in a full opposition defence. His celebrations and expressions livened up the matches and inspired his teammates to perform to their best. Particularly in one match against Telugu Titans, Kashiling fought valiantly and secured a draw for his team by staving off an all-out for almost ten minutes single handedly. He also created the record for most points in a single match by a raider with 24 points including three super raids. He may not have been able to take his team to the playoffs but he won hearts and captivated minds all over India with his undying love and performance in the Dabang Delhi jersey.
STAR SPORTS DEFENDER OF THE TOURNAMENT – RAVINDER SINGH PAHAL (DABANG DELHI)
The captain of Dabang Delhi, Ravinder Singh Pahal held the Delhi defence together with his timely tackles and brilliant strategy. Although he wasn't able to push his team into the playoffs, it showed how important his presence on the court was during his team's games. His favourite move was the waist hold and when that was put into use, no opposition raider was able to escape that iron hold. His swagger and style charmed many a fan and deceived many a raider.
MAHINDRA MOST VALUABLE PLAYER OF THE TOURNAMENT – MANJEET CHHILLAR (BENGALURU BULLS)
The bull of Bengaluru Bulls, Manjeet Chhillar is an extremely colourful character and an aggressive captain. He plays with his heart on his sleeve and doesn't mind expressing his emotions completely. He has been at the heart of the Bengaluru Bulls defence and orchestrating his raiders and strategy with astute leadership. Even though he suffered heartbreak by losing to U Mumba in the finals, he has a never say die attitude and that is the most important characteristic about Manjeet.
MATCH 60 – FINAL – U MUMBA VS BENGALURU BULLS
| | | |
| --- | --- | --- |
| No. | Award | Player/Team |
| 1 | TVS BEST RAIDER OF THE MATCH | SHABEER BAPU (U MUMBA) |
| 2 | BAJAJ ELECTRICAL INSPIRING DEFENDER OF THE MATCH | VISHAL MANE (U MUMBA) |
| 3 | STAR SPORTS MOMENT OF THE MATCH | SHABEER BAPU (U MUMBA) |
| 4 | VIP FRENCHIE BIG IMPRESSION PLAYER OF THE MATCH | ANUP KUMAR (U MUMBA) |
| 5 | FLIPKART AUDIENCE KI WISH PLAYER OF THE MATCH | ANUP KUMAR (U MUMBA) |
TOURNAMENT AWARDS
| | | |
| --- | --- | --- |
| No. | Award | Player/Team |
| 1 | DAE RISING STAR OF STAR SPORTS PRO KABADDI SEASON2 | SANDEEP (TELUGU TITANS) |
| 2 | STAR SPORTS RAIDER OF THE TOURNAMENT | KASHILING ADAKE (DABANG DELHI) |
| 3 | STAR SPORTS DEFENDER OF THE TOURNAMENT | RAVINDER SINGH PAHAL (DABANG DELHI) |
| 4 | MAHINDRA MOST VALUABLE PLAYER OF THE TOURNAMENT | MANJEET CHHILLAR (BENGALURU BULLS) |
WINNERS AND RUNNERS-UP PRIZE MONEY
| | | |
| --- | --- | --- |
| No. | Team position | Amount of prize money |
| 1 | U MUMBA | Rs 1 crore |
| 2 | BENGALURU BULLS | Rs 50 lakhs |
| 3 | TELUGU TITANS | Rs 30 lakhs |
| 4 | PATNA PIRATES | Rs 20 lakhs |