A delightful and mouth-smacking South-Indian Food joint at Salt Lake Sector 5, "THE SAMBHAR CHUTNEY" is a must-visit place for all the dosa lovers out there. One who wants to explore and innovate with their taste buds of South Indian food, this place will satiate your expectation with pleasing your heart and a big smile on your face. The sixteen-seater officegoer and weekend chiller food joint serve some extremely captivating food and refreshing beverages with keeping utmost hygiene in mind. A good quantity of food with pocket-friendly prices to please both your tummy and mind.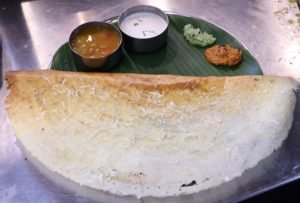 Amazing taste with a blend of fresh garlic, coriander, and cheese scattered on the covering making it in just a couple of minutes with keeping health in mind by using minimum amount oil yet making taste fabulous. One can eat it with or without the green coriander chutney, tomato onion chutney, the basic coconut chutney, and sambhar, they will enhance the taste but truly you would need nothing with it and go on eating again and again for the great aroma it has.
A unique way of plating the dosa which may confuse you of whether it is a dosa or not? But with each bite, you will get you to know the lovely dosa that has some magical flavors imbibed in it with lots of cheese, onion, coriander, and the magical chutney that has taken the dosa to cloud 9, if you do not eat it you will not understand the actual fun hidden inside it. A really must-try item from this restaurant.
The best-selling domain of this joint is absolutely applicable for its uniqueness, taste, and amalgamation of boiled potato, onion, tomato with the schezwan chutney, butter, and cheese. In any fancy dish apart from the staple idly, dosa, uttapam and vada their speciality is to use cheese on their innovative dishes to take it to another level.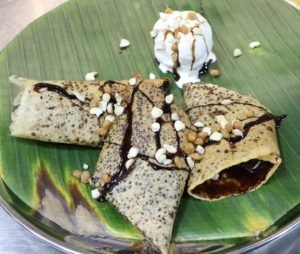 The showstopper among all is the chocolate dosa. Anyone who has a sweet-tooth should definitely indulge in this dosa. The dosa is the perfect dessert to finish your whole meal, which is not less than any fancy dessert we have in other places. The yummy chocolate sauce along with cashew, butterscotch chips and crushed oreo biscuit scattered inside the covering of the dosa is spectacular. The plating with a scoop of ice cream drizzled with the chocolate sauce just gives the dish a different level altogether. Each bite will take you through a joyride.
"There was a dearth of South Indian food joint in this part of the locality, so we thought of opening up an exclusive South Indian Restaurant", said Anup and Nisha Sureka owners of the Restaurant. The Bombay Idli Sandwich and Dosa Roll are originally curated by this couple. We met Mr Snehashis a regular customer in this restaurant who is very much complacent with the taste of the amazing dishes and ambience of the restaurant.
One should not miss an opportunity of trying out in this restaurant to satiate one's south Indian taste hunger.
Text by: Adrita Roy, IBTN9
---
Follow IBTN9
Facebook:
Instagram: