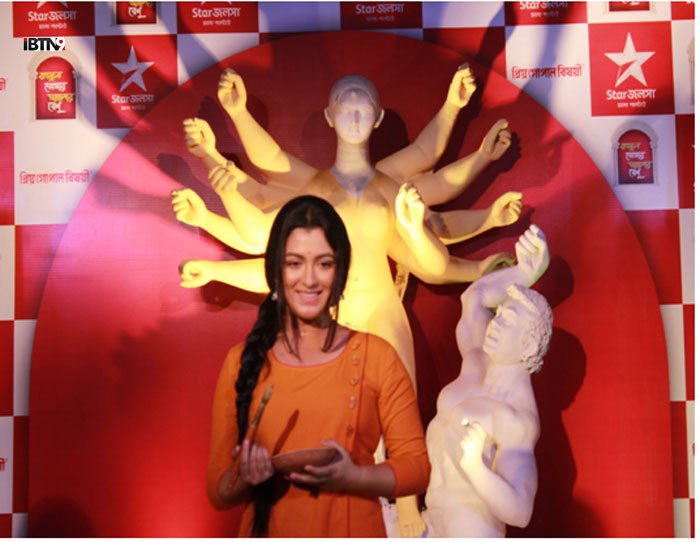 On 10th August, 2018, one of the most popular TV channels of Calcutta, Star Jalsha hosted a press conference to promote news regarding the launch of its brand new show "Bajlo Tomar Alor Benu" with respect to usher in the festive feeling. The show would air on Star Jalsha and Star Jalsha HD from 20th August, 2018 everyday on 6 PM.
Festivities in Calcutta are in abundance but the most awaited and famous one among these festivities is The Durga Puja, which is enjoyed for a week and after the immersion of the feminine idol, the year long wait for the puja to return resumes. The story of this show revolves around a talented, yet orphaned girl involved in the profession of idol making named Minu whose character is been portrayed by Shyamoupti Mudly.
Orphaned Minu is been adopted by famous idol maker Kalakrishna who discovers her love for sculpting and idol making and thus gives her shelter, mentors her and supports her in nurturing her dream, against all odds of the profession being highly male dominated the character of Kalakrishna is been portrayed by Sanjeev Dasgupta.
Finally according to the screenplay and dialogue writer Sudipa Chatterjee, when a person educates one man they educate one person whereas when a person educates one woman they educate one family, she states that the story of Minu is a story she wanted to say for a long time and that she believes that this story would convey a very strong and inspiring message to all those women who are striving to create their identity despite all odds.
By Anobik Paul and Debasmita Sarkar