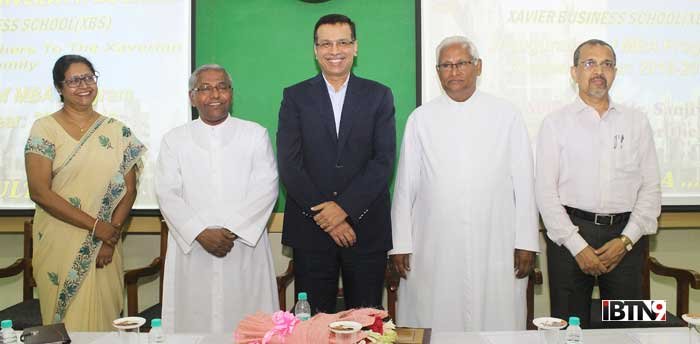 Kolkata, 7th August: The first batch of MBA Course begins in St. Xavier's University, Kolkata under its Xavier Business School. The classes of this fully residential MBA Programme commences from the current academic year 2018 – 19. It is inaugurated on 7 August 2018 in presence of the Vice Chancellor Rev. Fr. Dr. J. Felix Raj, SJ, Pro Vice Chancellor Rev. Fr. Sebasti L. Raj, SJ, and the renowned Industrialist Sanjiv Goenka, who was the Chief Guest at the Inaugural ceremony held at the New Town / Rajarhat Campus of the University.
There will be around 90 students in the first batch distributed in two sections. The University has got the approval from All India Council of Technical Education (AICTE) to run the M.B.A. programme. It will be two-year full time residential course, offering specializations in Marketing, Finance, Human Resources and Systems & Operations.
A separate Business School named Xavier Business School, has been set up in the University to run this course. The state of the art, Smart and air-conditioned class rooms and amphitheaters are ready. A separate updated library having access to a number of on line renowned professional journals, modern computer lab with adequate number of computer terminals and a state of the art language lab have already been set up for the M.B.A. programme. New Twin Hostels, for boys and girls, are now ready in the campus, where separate floors are earmarked for the M.B.A. students.
The curriculum and syllabus are finalized. Admission process of this course was done through national and international level admission tests like XAT, CAT, GMAT and others. While the University has recruited a number of faculty to run this course, a set of Guest Faculties from the industry and/or having teaching experience in other renowned business schools are also empanelled.
Xavier Business School, Kolkata,is a member of XAMI (Xavier Association of Management Institutes), which consists primarily of the Management Institutes run by the Jesuits, such as, XLRI (Jamshedpur), XIMB (Bhubaneshwar), LIBA (Chennai), XIME (Bengaluru), etc. So, there will be collaborations in terms of faculty exchange and in other areas with these established and renowned Management Schools of the country, which will be a great advantage for the students of XBS, Kolkata. Being a Jesuit Management Institution, it will not only impart hardcore knowledge and skills for the budding Managers but will also prepare them as good human being by instilling values in them, which is very much required in the modern business world with cut throat competition.
Text by Anobik Paul
Photos by Debasmita Sarkar