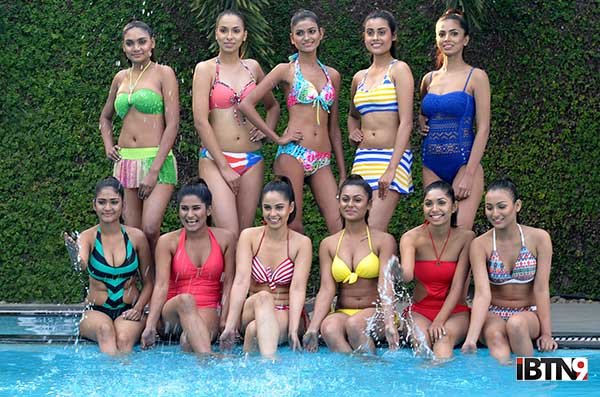 Kolkata, November 25: Finalists of beauty pageant Indian Diva 2017 came together at The Stadel Hotel's pool side on Saturday November 25 for the swimwear round. Celebrity judges choreographer and artist Pinky Kenworthy, model and actress Roja and fashion designer Suman Nathwani of La Lingerie were present to score the contestants on the basis of their poise, skin and overall look. The swimwear round was anchored by Actress Parijat.
Click Here to see more photos of the event
The top finalists are Rishika Nag (19, Kolkata), Anindita Das (23, Krishna Nagar), Dipannita Datta (24, Burdwan), Asoyani Barman (21, Panskura), Ritika Jain (20, Kolkata), Shreyashee Dutta (21, Kolkata), Preeti Bhattacharjee (20, Ranaghat) Jolly Ghosh (21, Kolkata), Archana Sharma (22, Guwahati), Zeba Zaman (20, Kolkata), Pari Sharma (19, Guwahati) and Sikha Saikiya (18, Assam).
Talking about the event, Pinky Kenworthy said, "The girls are looking great and I wish them all the best for the finale."
Looking beautiful in swimwear by La Lingerie, the girls introduced themselves to the judges before taking a walk around the pool side. "This is just the beginning for them and Indian Diva is a great platform to enter showbiz," said Suman Nathwani.
Model turned actress Roja had a word of advice for the girls. "Look after yourself. Be careful about the way you present yourself and be confident. Work hard and then sky is the limit. That's the key to success," said Roja.
Chief presenter Avijit Das and mentor/stylist Anupam Chatterjee were also present to cheer the girls. The grand finale of Indian Diva 2017 will take place on Sunday December 10 at JW Marriott.
Click Here to see more photos of the event
Text by Subhraroop Saha