It is hard to see an overflowing crowd on the stands of Mohun Bagan grounds in Kolkata apart from the occassion of a football match. The poster release ceremony of the upcoming film "Amazon Obhijaan" is one such instance where the City of Joy saw such a gathering with the spectators waiting for as long as three hours on a November afternoon.
"Amazon Obhijaan" is directed by Kamaleshwar Mukherjee and casts Dev as Shankar. The excitement of the spectators to get a glimpse of their favourite star and the poster of his upcoming film was overwhelming and definitely made the producers happy. Sree Venkatesh Films, which never fails to surprise the masses with
something new has created a poster of 60,800 sq ft. They have clearly and comfortably managed to break the previous record for a film poster set by "Bahubali" which was 51,600 sq. ft.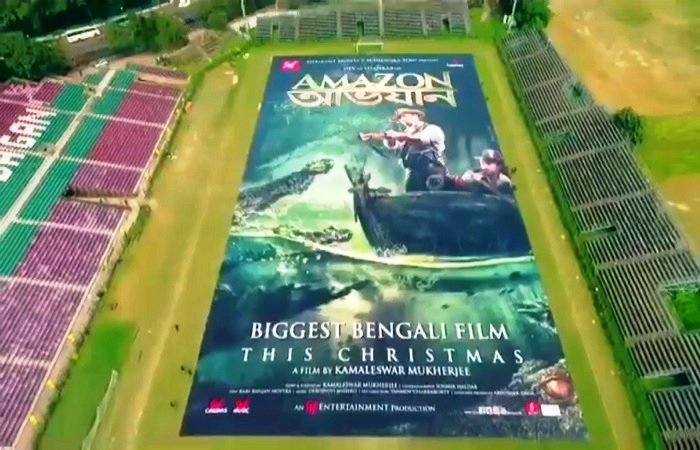 To give a perspective, the poster of "Amazon Obhijaan" which is 97 metre long and 58 metre wide, if placed vertically would be taller than Big Ben (96 metre), Statue of Liberty (93 metre) or Qutub Minar (73 metre). More than 100 man hours and 80 people were engaged in creating and installing the massive poster, which consists of 32 individual prints that were fitted together on site.
(See More Photos from the event)
Dev admitted to being both proud and nervous about the release of 'Amazon Obijaan' – "I do have the proverbial butterflies in my stomach regarding this film. We have dared to push our limits even further with this film and I am very proud of what we have achieved. I am confident the audiences will love the film and embrace Shankar's new adventure"
"Amazon Obhijaan" is perhaps the most expensive Bengali film which releases on Christmas in multiple languages will break all records, hopes the producers Sree Venkatesh Films.
Text by: Mainak Debnath
Pictures by: Sandipan Mitra