Manyavar, India's foremost ethnic wear brand for men recently launched Mohey, a new store that celebrates women's ethnic wear, in Kolkata at 13, Lindsay Street, near Simpark with the event MOHEY WEDS MANYAVAR. Manyavar, which is known for its lavish Wedding Wear besides its signature Ethnic Wear, Party Wear and Accessories for men, has now forayed into the women's couture with equal pomp and splendour.
The event which was conceptualised as a wedding between the groom Manyavar and his bride Mohey (meaning the self) saw popular actors Mimi Chakraborty and Parambrata inaugurating the store amidst much fanfare. Also present at the event were Mr.Manoj Agarwal: Franchisee and Showroom Owner and Mr.Joydeep Das: General Manager, Retail Expansion.
Touted a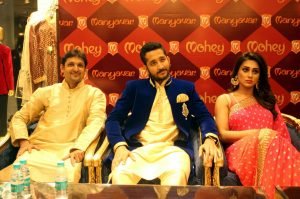 s the biggest wedding of its kind, Mohey is a range of celebration wear in bright hues created using Ethnic Raw Silk, Elegant Georgette, Royal Brocade, Delicate Net and Chiffons.
The collection includes outfits for various occasions. From casual tunics to bridal lehengas, gowns and silks Mohey celebrates the beauty of women's couture.
Mohey is designed for the Indian woman who wants to stand out at a gathering, look attractive and unique. There is a lot of glamour quotient in the collection.