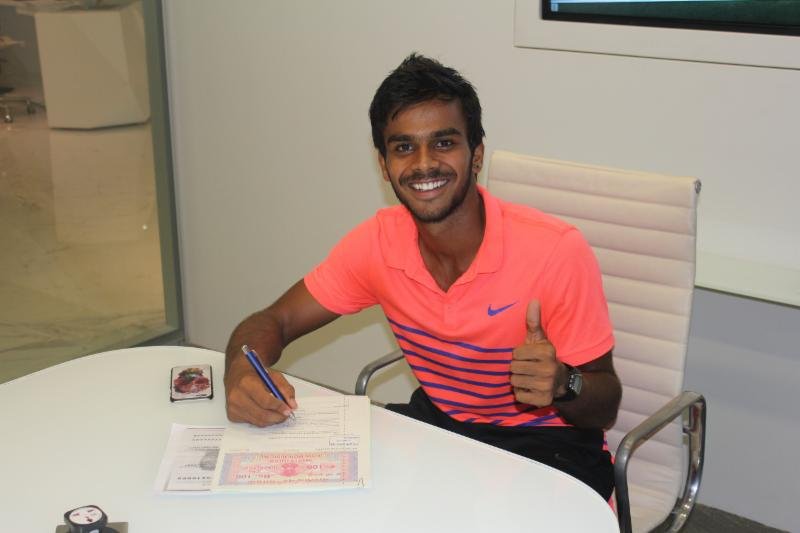 JSW, under their Sports Excellence Program (SEP) today announced their support for Wimbledon Junior Champion, Sumit Nagal. Eighteen-year-old Nagal is the first tennis player to be supported under the JSW's SEP which currently supports 39 athletes over five disciplines, namely; athletics, judo, wrestling, boxing and swimming.
Sumit became only the sixth Indian to win a Junior Grand Slam title when he bagged the doubles crown at the Wimbledon Junior with his Vietnamese partner Nam Hoang Ly in July this year. Post his Wimbledon triumph, Sumit has been steadily raking in titles, having won four ITF USD 10,000 Futures titles. He won the singles titles at Hyderabad, Chennai and Madurai. He also claimed the doubles title in Madurai last month. He currently trains in Germany, coached by Argentine Mariano Delfino and is ranked 52nd spot in the ITF Juniors Rankings.
Thankful for the support extended by JSW, Sumit said that the backing he has received came at a very crucial time in his young career. "With JSW Sport supporting me, I can now completely focus on my tennis. All that I need to think about now is how to be a better player on the court and make the country proud, " he said.
Parth Jindal, Director JSW Sports, said that the Group's support of Sumit further proves its resolve towards promoting and nurturing India's top sporting talent. "Sumit is one of the most exciting names in Indian tennis. His win at the Wimbledon Juniors has demonstrated that he has it in him to succeed at the international level. We are confident that with our support, Sumit will develop in a comprehensive manner and continue to succeed on the international stage," he said.
Discovered by multiple Grand Slam winner Mahesh Bhupathi, Sumit spent his formative years training at Bhupathi's academy in Bangalore. "Sumit is a very exciting player and someone who is very hungry to succeed on the big stage. He is very sincere and I am sure that JSW's support will motivate him towards aiming for bigger honours", said Bhupathi.