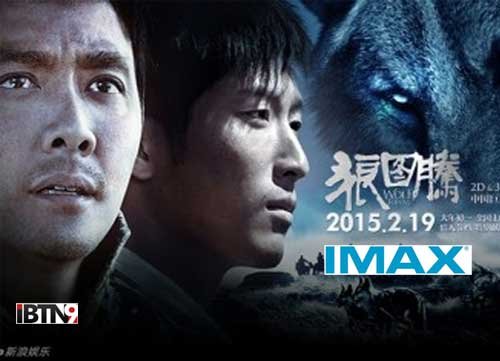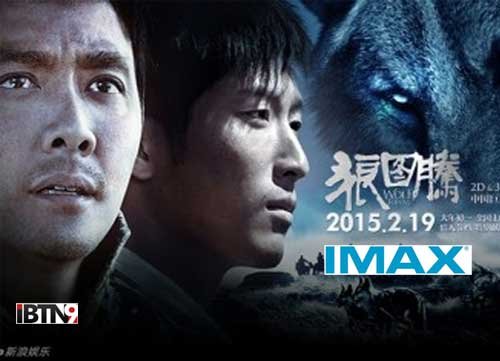 LOS ANGELES – IMAX Corporation (NYSE:IMAX) and Sony Pictures Entertainment have announced that Wolf Totem—the Chinese-language hit film, which was produced and distributed locally by China Film Group—will be digitally re-mastered into the immersive IMAX® 3D format and released into limited IMAX® theatres domestically on Sept. 11. The film will also be released later this year in select IMAX theatres in Latin America.
Wolf Totem, which was co-written and directed by legendary French filmmaker Jean-Jacques Annaud, debuted earlier this year on Feb. 13 in China, where it grossed more than $110.5 million, including north of $5 million on 200 IMAX screens.
"Following its successful Chinese release in IMAX theaters earlier this year, we are excited to team up with the iconic director Jean-Jacques Annaud and our partners at Sony Pictures Entertainment to bringWolf Totem to a broader base of IMAX fans domestically and abroad," said Greg Foster, Senior Executive Vice President, IMAX Corp. and CEO of IMAX Entertainment. "This is a visually stunning and touching film, one that deserves to be seen by the widest possible audience and in the most immersive way imaginable—in IMAX."
Rory Bruer, president, Worldwide Distribution for Sony Pictures added, "It's a tremendous honor to be a part of this incredibly rich and poignant film. After the movie has struck a chord with Chinese audiences, we are thrilled to be presenting it to American moviegoers, and IMAX is a great way to experience it."
The IMAX® 3D release of Wolf Totem has been digitally re-mastered into the image and sound quality of The IMAX Experience® with proprietary IMAX DMR® (Digital Re-mastering) technology. The crystal-clear images, coupled with IMAX's customized theatre geometry and powerful digital audio, create a unique environment that will make audiences feel as if they are in the movie.
About Wolf Totem
In acclaimed director Jean-Jacques Annaud's film adaptation of Jiang Rong's best-selling novel, a youngBeijing student is sent to live among the nomadic herdsmen of Inner Mongolia.  Caught between the advance of civilization from the south and the nomads' traditional enemies—the marauding wolves—to the north; humans and animals, residents and invaders alike, struggle to find their true place in the world.