The highly anticipated Meta Connect conference kicked off today, promising exciting new hardware announcements from Meta, formerly known as Facebook. The most exciting one of all was the launch of Meta Quest 3, the much anticipated upgrade to the Meta Quest 2 VR headset.
Meta Quest 3 Takes Center Stage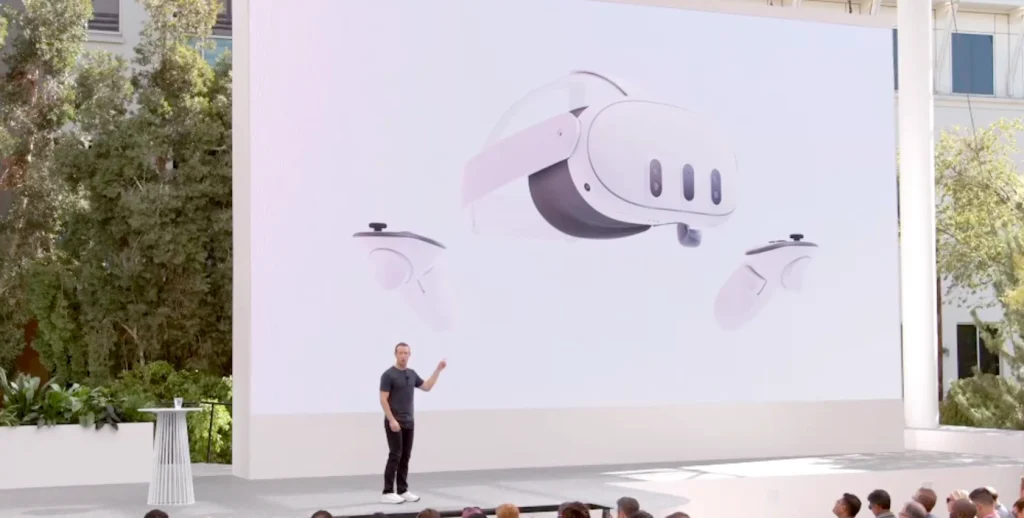 As a special reward for the audience's patience in waiting an additional 30 minutes for the keynote to commence, Meta unveiled the Meta Quest 3, a cutting-edge virtual reality headset boasting significant improvements. The headset's key features include:
Powered by Qualcomm Snapdragon XR2 Gen 2: The Meta Quest 3 is driven by the newly announced Qualcomm Snapdragon XR2 Gen 2 chip, promising powerful performance and seamless interactions within the virtual world.
Full-Color Passthrough Technology: The Meta Quest 3 introduces an impressive passthrough technology with a resolution boasting ten times as many pixels as its predecessor. This advancement enhances the immersion and realism of virtual experiences.
Expanded Field of View: With a 110-degree field of view, users can expect a broader, more encompassing VR experience.
Affordable Price Point: Meta aims to make VR more accessible by pricing the Meta Quest 3 at $500, a competitive price point for its feature set.
Quest+ VR Subscription Bonus: For those eager to dive into the world of virtual reality, each purchase of the Meta Quest 3 comes with a complimentary six-month subscription to Quest+ VR, further enhancing the value proposition for prospective buyers.
Our U.S. Managing Editor, Darrell Etherington, had the opportunity to test out the Meta Quest 3 VR firsthand. Be sure to read his impressions to find out if the headset lives up to the hype.
Teasing the Future: Meta Quest for Business and More
While the Meta Quest 3 took the spotlight, Meta didn't stop there. The company tantalized the audience with hints of Meta Quest for business applications, promising exciting possibilities for enterprises looking to leverage VR technology for various purposes.
In addition to hardware updates, Meta announced "Headspace," described as a "virtual playground for your mind." Further details about this intriguing project are expected to follow.
Furthermore, attendees were treated to insights on how "augments" can personalize and enhance physical spaces, hinting at the company's ongoing commitment to building the metaverse.
The Meta Connect conference has certainly lived up to its reputation as a platform for groundbreaking announcements. With the Meta Quest 3 leading the charge in virtual reality innovation and tantalizing teases about the metaverse and business applications, Meta's commitment to shaping the future of technology remains as strong as ever.