The second wave of coronavirus outbreak has compelled Covid-19 patients gasping for oxygen while waiting outside hospitals and clinics. The common symptoms of Covid-19 include shortness of breath and rapidly changing oxygen levels. Not every patient with respiratory problems, however, needs to be admitted to the hospital.
For those in home isolation, the Union Health Ministry has proposed a method of "Proning" to help raise oxygen levels. Proning is a procedure in which the patient lies face down on his or her stomach to attempt to increase oxygen levels in the body. This posture increases circulation and allows for more relaxed breathing. A safe oxygen level (SpO2) is between 94 and 100.
How to do Proning?
To do this, one will need five pillows and a flat surface to lie down.
Position 1:
Lay on your belly.
Keep one pillow below your neck bone. Keep your head below body level.
Keep one or two beneath your pelvis area, one hand should be able to move through the belly button from below.
Keep the third pillow below your foot.
Position 2: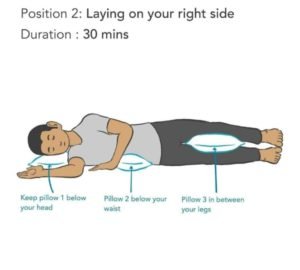 Lay on your right side.
Keep one pillow below your head.
Keep a second pillow beneath your waist.
Place the third pillow between your legs.
Position 3: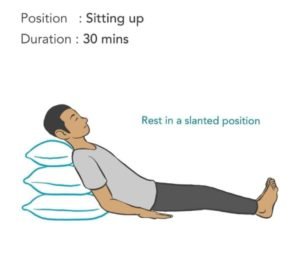 Sit up in a slanted position and rest with three pillows behind your back.
Keep changing these 3 positions after staying 30 minutes in each.
Importance of prone lying:
– Prone positioning boosts ventilation, oxygen saturation, and makes airflow easier by keeping alveolar units open.
– Increases lung capacity by opening up the back of the lungs.
– Lowers the pressure of the heart on the lungs.
– Proning is only necessary if the patient is having trouble breathing and the oxygen level falls below 94.
– During home isolation, it's important to keep an eye on SpO2, as well as other vital signs including temperature, blood pressure, and blood sugar.
– Missing out on hypoxia (impaired oxygen circulation) may cause problems to worsen.
Cautions while proning:
– Avoid proning for an hour after meals.
– Only prone as many times as comfortable.
– One may prone for up to 16 hours a day, in multiple cycles, as required.
– Pillows can be changed slightly to alter pressure areas and for comfort.
– Keep track of any pressure sores or injuries, particularly around bony prominences.
Text by: Ipsita Ghosh, IBTN9
---
Follow IBTN9
Facebook:
Instagram