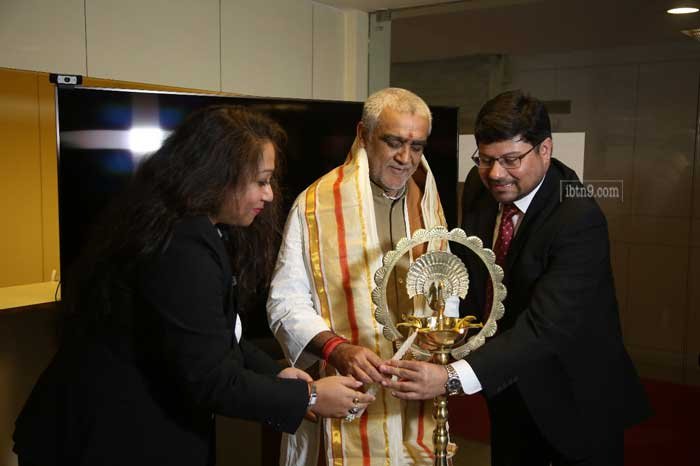 Kolkata, 9th June, 2018: Paramesh Banerji Group,​the flag bearer of a Modern Homeopathic System, commemorated 10 years of its Telemedicine Service​(www.drpbanerji.com) in the august presence of Shri Ashwini Kumar Choubey, Honourble Minister of State for Health and Family Welfare​along with Dr. Paramesh Banerji, Founder & Director, Paramesh Banerji Group ​and ​Ms. Sukanya Dutta, Co Founder & Director, Paramesh Banerji Group ​at ​their Main Clinic & Telemedicine Centre in Kolkata today. Speaking on the occasion​, Shri Ashwini Kumar Choubey, Honourble Minister of State for Health and Family Welfare​ said, "​Bringing this type of 'Modern Homeopathy' developed by Dr. Paramesh Banerji backed by the Telemedicine Service would eliminate the need for hospitalization in a large percentage of the cases. It will also do a great service to millions of patients who are suffering from those diseases that are categorized as so called 'incurable' by modern allopathy."
Speaking on the occasion,Dr. Paramesh Banerji, Founder & Director, Paramesh Banerji Group,"​We do not like miracles, we believe in repeatable success, that can be implemented by anyone by following disease specific treatment processes and verified by diagnostic tools. We believe, soon this technique of Homeopathy will become the 'Alternative Mainstream Medicine'."
This new type of Modern Homeopathic System, developed and implemented ​by Dr. Paramesh Banerji​, has attained unparalleled success in treating critical and complex diseases like ​Autism, Brain Tumor, Cancer, Renal Failure and Heart Diseases to name a few. The aim of its founder was to create a process driven version of Homeopathy, which is almost entirely based on modern diagnostic tools as opposed to Conventional Homeopathy that is based on symptoms only.
United States of America, Canada, Chile, Mexico. United Kingdom, France, Germany, Italy, Spain, Kuwait, Jordan, Saudi Arabia, Oman, Pakistan, Bangladesh, Sri Lanka, Thailand, Malaysia, Singapore, Australia​ are a few countries amongst a list of 88 where the Telemedicine Service is delivered to.
The occasion also witnessed a demonstration of the Group's expertise in Research & Development, the largest team, the organizational framework and also the global reach to bring the benefits of this new system of Medicine to the masses in India and the world. ​The Main clinic​ ​& Telemedicine Centre​ of Paramesh Banerji Group​ is situated at 145 Rashbehari Avenue, 4th Floor, Kolkata – 700029 with Rural Telemedicine Centres in Bagnan, Burdwan and Sodepur (near Arambagh). This is besides a Clinic & Telemedicine Centre in London and a Homeopathic Medicine Manufacturing facility in New Jersey, USA.