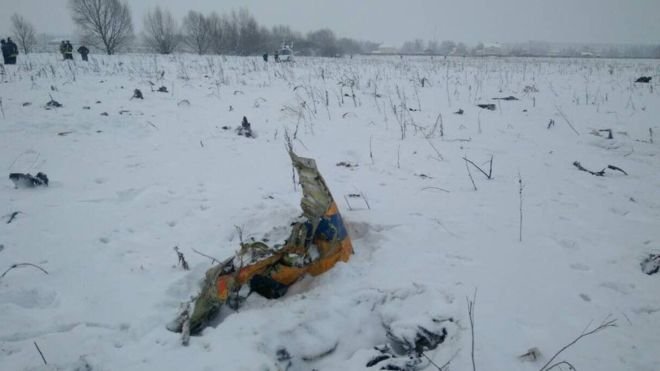 The Saratov Airlines jet vanished minutes after take-off and crashed near the village of Argunovo, about 80km (50 miles) south-east of Moscow.
All passengers and crew were killed, officials say. Emergency services are working at the scene. The Antonov An-148 was en route to the city of Orsk in the Ural mountains, near the border with Kazakhstan.
Pieces of wreckage and bodies were found spread over a large area. Those on board included 65 passengers and six crew. President Vladimir Putin has expressed his condolences to the victims' families and announced an inquiry into the cause of the crash. All 65 passengers were from Orenburg, the Russian region to which the plane was flying, a spokesman for the regional governor told Interfax news agency.
Flight-tracking site Flightradar24 said the aircraft was descending at the rate of 1,000m (3,300ft) per minute shortly after taking off early on Sunday afternoon.