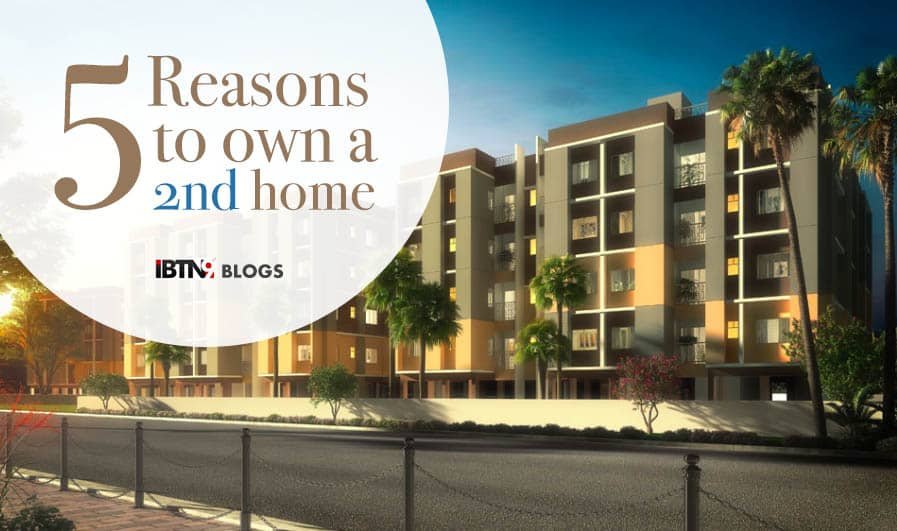 Having your own home is a dream come true. It is the most important investment a person makes in her lifetime. But owning a home has become a lot more easier now with more and more financial schemes being made available for all kinds of income groups. Having said that, it is really a lot easier than you think, to own another home. But why should you buy another house when you already own a home?
Here are five reasons for you to own a second home:
AN INVESTMENT NOT EXPENSE
People with a decent monthly income often opt for investments in various financial schemes. If you are one of those, you must think of investing your future in real-estate. A second home is a secure investment that can give you the peace of mind that your money has been put to good use. With definite rise in returns, a second home while being a retreat to your personal life, also secures the future of your family, both as a financial recovery tool and as a shelter in case of need.
GIVES RENTAL VALUE (IF REQUIRED)
Thousands of people including families, individuals and students look for places to stay on rental basis. If your second home can accommodate, you can consider giving out your space on rent, providing you with a stable source of income to cover your maintenance costs. Many house owners prefer family tenants especially when their second home is far away from their permanent residence. This gives them a peace of mind that their second home is taken care of by a family.
LOAN AGAINST PROPERTY
Need a loan for buying another property, growing your business or for any personal reason? Your second home is a great positive factor for making you eligible for a loan. You may also mortgage your existing residential property but that also steals your peace of mind because of the risk of losing a roof, associated with it. With a second home, you can always gamble with the risk and with the correct financial approach, you can pay back a loan and regain a clean ownership of your second home once more.
WEEKEND RETREAT
Escaping the busy schedules of daily work to destinations not too far away, make way for beautiful memories with family and friends on weekends. But choosing a place, checking availability for hotel stay and the costs associated with it, are headaches. Imagine if you have a second home, not too far away from the city you live in, it can actually become a great place for a weekend hangout, a get together, or just an 'alone-time' for yourself.
SWITCHING TO A COMPLEX
Many people live in their inherited houses, or builder floor apartments. But the fact that many of them still wish to enjoy the benefits of living in a complex, cannot be overlooked. Even if they can afford, they are compelled to stay back at their standalone buildings due to various reasons like proximity to workplace, school, etc. They say, happiness is a choice – so for these group of people, a second home in such an affordable complex with all modern amenities, is like a dream come true, where they can go and live whenever they wish to, escaping from the bustles of the city and refresh their minds before they come back to their existing habitat and prepare themselves for the next day.
If you live in Kolkata, the best place in the outskirts of the city where you can have your second home is Baruipur. Meridian Aamar Bari offers all modern amenities in the residential complex with an investment starting at just 10.5 lakhs for a 1 BHK flat. You can CLICK HERE to enquire now.