IBTN9 Dehradun: Here's a man, who is no less dexterous than his efforts to bring out art inside out! Presenting Mr. Satpal Gandhi, the man behind a creative endeavour called "Upcycle". Finding him was not much of an effort, as he's a perfect solution to all your artistic needs. His art speaks for the person he is & so I landed up to his workstation or the Workshop, as he calls it!
Enthusiasm is synonymous to his presence. As he led us to his workshop he unbottled such distinct pieces of bottles, that were irresistibly beautiful, distinguished, each unique in its origin & have a mark of customised ownership! Well, well he puts quite some effort to gather them, be it from the rag market or from the royal heritage of Jaipur! He has them all. Surprisingly the quality & quantity of knowledge a non – drinker could possess, makes me sulk at the thought of drinking in the first place.
A bird watcher, a crafter, a photographer & an artist, making each moment of his life a beautiful piece of art. This is all about Mr. Satpal. Coming back to his work, he has crafted some of the finest masterpieces with bottles. Checkout what I got!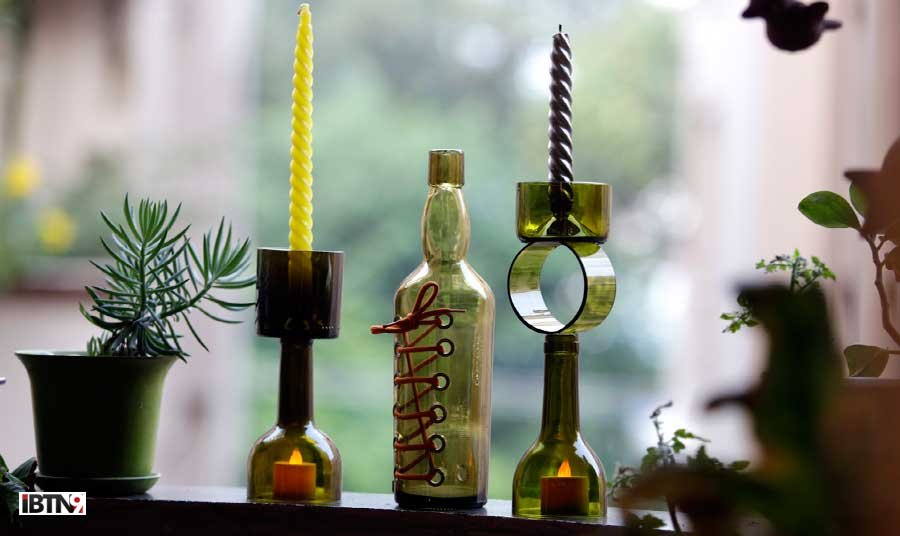 Cheers to Art & the Artist. Way to go Paaji!
To catch more glimpses of his Masterpieces, visit his workshop in Dehradun, Uttarakhand.
Or simply contact  Mr. Satpal Gandhi at: satpalgandhi@yahoo.com