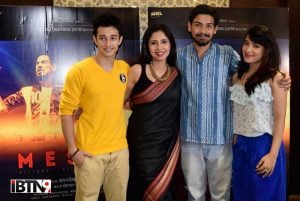 Riingo's "MESSI" is the story of every defeat, every heartbreak, every loss that contains its own seed; its own on how to keep getting beaten down and yet keep moving forward to get past every obstacle life throws at you.
Prosun is a typical unemployed, disillusioned young graduate looking for work, dreaming a life with the lady he loves and be the ideal son to his parents, as they want him to be. Subrata, his father, a small time road engineer and a defamed 'once upon a time' soccer coach, has always rated Prosun (Rono) as an imbecile – a curse from his last birth.
Malati, the mother would always want to take sides with her son, but as the law of the land goes, the man of the house holds the fort. So the mother always kept quiet when dad would scold his child. Prosun's best friend is his little brother Chotu (Aryan), nicknamed as Messi. He is younger to Prosun but is the pride of the family.
Chotu posseses the good looks, the brains and the skills that his elder brother only dreamt of having– the talent of being a great soccer player! Somehow, adversity finds its way through the family and the lives of Prosun, his love, Mou and Chotu. One incident brings the entire world crashing to ground around Prosun and every happiness and bleak flame of hope start to extinguish. Messi can't play soccer anymore.
However, there is nothing better than adversity.
Prosun wears the jersey and sets on to do the impossible. It teaches him that life will unfold the magic of God if only one gives his best and it inspires him to seek what lies beyond his expectations. This tale of two brothers touches the emotional highs and lows and also the magnificent love of football that the city is synonymous with.
MESSI is set to hit the floors for shoot early January in 2016.