Star Cement to install world's largest Durga idol at Deshapriya Park.
Putting an end to the speculations and claims over the teaser — "EtoBoro? Shotti!"; Star Cement, the high voltage brand of Cement Manufacturing Company Limited [CMCL], today revealed its campaign for the world's largest Durga Idol to be installed at Deshapriya Park taking the five-day festivity to a new high.
This year Cement Manufacturing Company Limited [CMCL] and Deshapriya Park Durgotsab (DPD) have come together to create something so unique & grand that it would undoubtedly draw global attention towards Kolkata as a whole.
Sri Sanjay Kumar Gupta, CEO of Star Cement, said:"This year Kolkata will see an idol of Ma Durga that will touch the sky. May her blessings be with all."
"Star Cement & Deshapriya Park is doing Durga Puja together. The theme of the Puja has been conceptualised and ideated by Star Cement. Kolkatans will observe a grand and unique Puja that will grab eyeballs and add the wow factor to the celebrations. We thought that Deshapriya Park is the ideal venue for such a grand idea because of its huge space, cultural heritage and excellent location which has a very good proximity to various parts of the city and suburbs. Come October and you will witness what a silent revolution we have brought about in our city of joy," he added.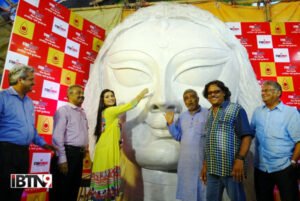 Sri Hironmoy Chatterjee, President, DPD said.  "We are extremely pleased to have Star Cement as our partner in the worship of Devi Durga this year. DPD shares quite a long history of collaboration with the Society.  Envisioning a large societal purpose has always been a dream at DPD. For DPD, Durga Puja is more than just an ethical commitment, deeper than Puja Committee Spin; it's embedded in the activities, influencing decisions from sourcing to strategy. This partnership only makes our cause bigger and more unique".
The towering idol is made by Sri Mintu Pal, who said "This is quite exciting challenge for me and to be honest I am very happy with how the idol is turning out."