Singer Arijit Singh under Threat of Extortion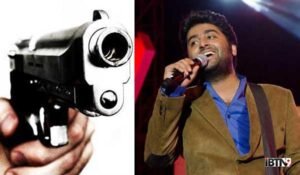 Ravi Pujari gang threatened Indian singer Arijit Singh over phone to pay Rs.5 crore (for nothing). Arijit clearly replied that he doesn't have that amount of money and cannot meet his demands. In response, Ravi Pujari has demanded the singer to perform two live shows without taking any remuneration, if he decides not to pay the money.
Arijit Singh has been involved in no controversy but the gang has made him a target. The soulful singer of the Indian film industry has lodged a complaint in the Oshiwara Police Station.
The incident is in connection of Arijit Singh's live tours, where his manager denied one of the promoters due to continuous bargaining. The promoter seems to have connections with goons like Ravi Pujari, who in turn, threatened Arijit's manager.