Fortis Turns in Strong Numbers for Q1, FY 2015-16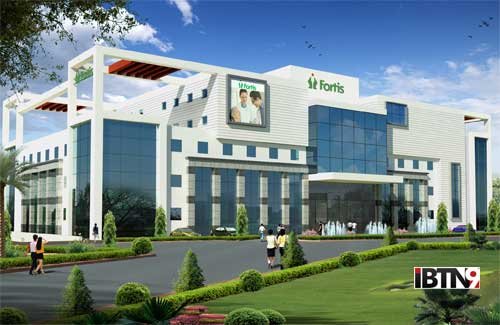 August 7, 2015: Fortis Healthcare Ltd. (Fortis), India's leading healthcare delivery Company,today, announced its consolidated results for the quarterended June 30, 2015 (Q1FY16)
India Business – Key Highlights for the Quarter (Q1FY16)
The CEO position at Fortis has been closed with the appointment of Mr. Bhavdeep Singh who took charge on July 24, 2015.
Consolidated India Business Revenues were at Rs 1,028 Cr versus Rs 964 Cr in the corresponding quarter, last year.Operating EBITDAC (EBITDA before net business trust costs) was up substantially at Rs167 Cr, +23%; representing a16.2% margin versus a14% margin in the corresponding previous quarter.
India hospital business revenues were at Rs 839 Cr as compared to Rs 787 Cr in the corresponding previous quarter.Operating EBITDAC was at Rs 123 Cr, a healthy growth of 26% over the corresponding quarter last year;representing a margin of 14.7% againsta margin of 12.5% in the correspondingquarter of the previous year.
The India diagnostics businessrecorded robust operating margins of 23% at Rs 43 Cr, a growth of 17% over the corresponding quarter. This compares favourably with the20.9% margin in the corresponding previous quarter. Net revenues stood at Rs 189Cr versus Rs 177 Cr in the corresponding previous quarter.
The company continued to maintain a healthy balance sheet. The net debt of the company as of June 30, 2015 stood at Rs 622Cr representing a net debt to equity of 0.13x as compared to 0.25x as of March 31, 2015.
The new Corporate advertising campaign "Hands of Hope" featuring the substantial clinical capability of Fortis Doctors and their adeptness to handle the greatest medical complexities, including rare and difficult cases of paediatric heart transplants, has tugged at the heart strings of Indians. The pan India campaign released on Television, in print, outdoor and digital media has drawn widespread applause and went viral on You-tube attracting an unprecedented 1.16 Mn hits, so far. The numbers are growing and it is our hope that more and more patients suffering from serious ailments find the right medical solutions at Fortis. Our endeavour is to keep hope alive!
*EBITDAC refers to EBITDA before net business trust costs
Reported Group Financial Highlights for Q1FY16
The reported results for Q1FY16 are not comparable to the corresponding previous period due to progressive divestments of the Company's international businesses namely RadLink Asia, Singapore and Fortis Surgical Hospital Singapore; the divestments of both being completed in Q1FY16.
Consolidated Group Revenues for Q1FY16were at Rs 1049 Cr versus Rs 1021 Cr in the previous quarter.
Consolidated Profit after Tax and after Minority Interest and share in associates (PATMI) stood at Rs 87 Cr versus Rs (46) Cr in Q1FY15. The significant improvement in PATMI was largely the result of the net gain arising from the divestment of RadLink, Singapore and Fortis Surgical Hospital, Singapore during the quarter.
Welcoming Bhavdeep, Malvinder Singh, Executive Chairman and Shivinder Singh, Executive Vice Chairman, Fortis Healthcare Ltd., said, "We are delighted to have Bhavdeep join as CEO. He is no stranger to Fortis and has had a successful previous innings with the Company. Bhavdeep brings continuity to the role and a comprehensive understanding of the business, its culture, value system, people and processes. He is deeply aligned with the Fortis priorities and has already immersed himself in the role. We wish him all success!"
Commenting on theresults, Mr Shivinder Singh, said,"Our focus on our key operating levers is continuing to reflect in the efficiencies we are deriving from our operations. The main concentration is on delivering Medical Excellence and providing outstanding Patient Care. As both these pillars continue to evolve with the greatest regard for empathy and a positive attitude of service with humility, Brand Fortis will become stronger and the bond and trust that we enjoy with our patients and the community will only strengthen."
In line with its stated strategy to focus on India, the Company during the quarter completed the last of its international divestments .i.e. RadLinkand Fortis Surgical Hospital in Singapore. Both these business were divested for a sale consideration of SGD 166 Mnin total.
The Company also successfully redeemed USD 100 Mn Foreign Currency Convertible Bonds (FCCBs) issued in 2010. The redemption was madefrom the Company's; existing cash proceeds. With this the Company has further strengthened its Balance Sheet with net debt of the Company as on 30 June 2015 at Rs 622Cr and representing a net debt to equity ratio of 0.13x times ( as compared to 0.25x as on March 31, 2015).
Key Highlights – Hospital Business
The Average Revenue Per Occupied Bed (ARPOB) for the hospital business during the quarter stood at Rs 1.4 Cr an increase of 14% over the corresponding quarter. The Average Length Of Stay (ALOS) improved to 3.53 days from 3.72 days while the occupancy during the quarter stood at 70% versus 71% in the corr previous quarter.
During the course of FY2015, Both the company's startup facilities i.e. FMRI, Gurgaon and Fortis Ludhiana continued to witness robust growth and improved operating profitability (EBITDAC). Revenue at FMRI grew 20% to reach Rs 97 Crs while Ludhiana recorded strong growth of 34% in its
During the quarter, Fortis continued to demonstrate clinical excellence across specialities and facilities. Some of the distinctive medical cases included:
The most recent case of heart transplant for a 22 year old man, at Fortis Mulund, Mumbai. This made history as it was the first heart transplant to take place in Mumbai after 47 years. With this and our other hospitals Fortis Malar in Chennai and Fortis Escorts, in New Delhi we have so far performed over 50 heart transplants, the largest number done by any hospital network in Asia.
An emergency open heart surgery on an 18-hour new born baby, the youngest reported case in the country till date. The surgery was performed at the Fortis Escorts Heart Institute (FEHI),New Delhi by Dr K. S. Iyer, Executive Director- Paediatric & Congenital Heart Diseases and his team of doctors.
In a rare case requiring a coordinated multi-disciplinary effort at Fortis Hospital Noida, a battery of doctors including Neuro, Cardiothoracic and Trauma surgeons, saved the life of a 27-year-old construction worker following a marathon six hour surgery. The patient had met with a ghastly fall at a construction site and his chest and neck had been pierced by iron rods, badly damaging his heart and lungs.
A team of doctors led by Dr Vijay Agarwal, Chief Paediatric Cardiovascular Surgeon, and Dr Swati Garekar, Paediatric Cardiologist, created history at Fortis Mulund, Mumbai by using the three-dimensional printing technology to build a 3D model of an infant's heart. This is the first time that 3D printing has been used innovatively in India to plan a complex miniature heart surgery.
A team of doctors at Fortis Hospital, Noida, performed a unique facial surgery to enlarge the opening of the patient's mouth so that he could ingest food normally. Chronic tobacco usage (chewing gutka) had led to the condition where he was unable to open his mouth beyond 1.1 cm as against the normal 3.5 to 4 cms. The surgery was led by Dr Rohit Chandra, Sr. Consultant Facio-Maxillary Surgeon – Department of Plastic, Reconstructive and Aesthetic Surgery.
A team of doctors led by Dr Aparna Jaswal, Senior Consultant – Cardiac Pacing and Electrophysiology at Fortis Escorts Heart Institute, conducted an unusual heart surgery by implanting a pacemaker in the lower abdominal cavity of a 68-year-old woman. The lady was a second time cancer survivor, a rare reported case.
Doctors at Fortis Hospital, Mulund, created history by successfully placing a bio-absorbable stent in the heart of a nine-year-old girl, the youngest patient to undergo an angioplasty procedure. The procedure was used to correct Familial Hypercholesterolemia a rare genetic disorder (afflicting 1 in 5,00,000 individuals) which results in heavily elevated cholesterol levels.
Dr Shallu Kakkar,Principal Consultant, Gynaecology & Obstetrics, Fortis Escorts Hospital, Jaipur, led a team of doctors to operate upon a pregnant lady suffering from large bilateral dermoid ovarian cysts (8 and 10cm in Dia), The cysts were impacting both ovaries. The doctors thenand helped her to deliver a healthy child.
An Iraqi man's cancerous tumour weighing 5.6 kg was removed surgically at the Fortis Memorial Research Institute, Gurgaon. The large malignant tumour behind his left thigh was ulcerated and bled profusely. The Surgical Oncology team at FMRI, led by Dr Vedant Kabra, Director – Surgical Oncology and Dr Pushpinder Gulia, Consultant – Surgical Oncology, conducted the limb preserving surgery.
A six-year-old child from Iraq with rare deformities in his legs was able to walk on his own for the first time after an unconventional and complex non-surgical technique, called the Ilizarov soft tissue correction, was successfully used by Dr Sachin Bhonsle, Consultant Orthopaedic Surgeon, at Fortis Hospital, Mulund, Mumbai.
Doctors at the Fortis Flt Lt. Rajan Dhall Hospital, Delhi gave a new lease of life to a 70-year-old man from Manipur by successfully treating him for 99% LAD heart blockage (the biggest vessel of the heart). They subsequently operated on him for a malignant colon tumour. The multi-disciplinary team of treating doctors included Dr Ripen Gupta and Dr Randeep Wadhawan from the Cardio Sciences and the Gastro Sciences teams respectively in conjunction with the Critical Care team.
Key Highlights – Diagnostics Business
The lab medicine .i.e. the pathology business contributed 84% to total revenues and grew 13% over the previous quarter. The imaging business contributed 10% to total revenues and witnessed a decline of approx. 21% largely as a result of the rationalization of unprofitable laboratories. Clinical Trial, Wellness and the International segment revenues contributed 6% to overall revenues.
SRL performed over 3.57 million accessions in the quarter in both the Pathology and Radiology segments; a growth of 5% over the corresponding previous quarter.
SRL continued to rationalise its laboratory and collection centre network; adding 6 new laboratories and 36 collection centers while rationalising its portfolio with the closure of  4 laboratories and 216 collection centers respectively
As of June 30, 2015, SRL had a network of 266 labs and over 6,500 collection points.
Awards & Recognitions
Fortis Healthcare received the prestigious Golden Globe Tigers Award in the 'Best Patient Safety Initiative' category as it successfully adopted and implemented the World Health Organization's Surgical Safety Checklist (SSCL) for patient safety and risk minimization, in the operating room. The awards were announced at an event in Kuala Lumpur recently.
Fortis Healthcare won the Corporate Live Wire Innovation & Excellence 2015 Award in the Healthcare Delivery category. Fortis was feted for having identified "Innovation" as one of its core values and for striving to further it by continuously improving and innovating to exceed expectations; adopting a "can-do" attitude and challenging itself continuously to do things better and differently.
Fortis Escorts Heart Institute, New Delhi, received the prestigious ICICI Lombard and CNBC India Healthcare TV 18 Awards 2014-15, for the Best Single Specialty Hospital in Cardiology for the third year in succession. The award named FEHI as the winner among tertiary care institutes and was recognized as a center of excellence in the focused single discipline of cardiology.
Fortis Escorts Heart Institute (FEHI), New Delhi, was awarded the prestigious Golden Globe Tigers Award for their Critinext initiative in the category of 'Innovation in Quality of Service Delivery' at an event held in Kuala Lumpur, Malaysia, recently. Critinext was selected for its innovative e-ICU model that provides intensive care beyond boundaries.