The Oscars 2021 red carpet was like a breath of fresh air, amidst this unfortunate pandemic situation. While other award shows decided to move forward without an in-person event, the 93rdAcademy Awards chose to schedule their event in late April rather than opting for an online category.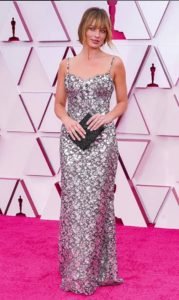 Even with a scaled-back ceremony and social distancing, stars flaunted their best looks on the red carpet, starting from an array of dramatic gold, red to pulling off their glitziest looks and trends of this year.
While some of them kept it casual like Best Director winner Chloe Zhao, who paired her Hermes high-collared dress with crisp white sneakers, we were in awe with some of the most eye-catching looks.
From Andra Day's Vera Wang dress with a matching gold clutch to Zendaya's most talked about look of the night, a bright-yellow chiffon dress custom-designed by Valentino's creative director Pierpaolo Piccioli. The dress, named "Force de beaute" took 300 hours to make and was paired with $6 million's worth of Bulgari diamonds.
"Mank" star Amanda Seyfried took our breath away in her bright red Armani Prive, so did Margot Robbie in Chanel.
The evening's trends revolved around cutout dresses as well, take Viola Davis for an example, with her striking white Alexander McQueen gown.
Men on the red carpet didn't hold back either. Best actor nominee, Riz Ahmed was seen sporting a black turtleneck under his Prada tuxedo, while Trevon Free from "Two Distant Strangers", turned heads with his colorful three-piece Dolce & Gabbana suit with visible names of the victims of police violence, designed inside.
One of the boldest looks of the night, Colman Domingo's bright pink Versace suit embellished with 4,500 Swarovski crystals. We can't stop talking about it too!
Despite the fact that most eyes were on the LA red carpet, similar occasions were arranged in London and Paris for those unable to attend in person.
Text by: Ipsita Ghosh, IBTN9
---
Follow IBTN9
Facebook:
Instagram