After creating ripples with the teaser, acclaimed filmmaker Atanu Ghosh is ready to present the trailer of his latest film: Mayurakshi.
On Thursday evening, in presence of the stalwarts Soumitra Chatterjee and Prosenjit Chatterjee; the trailer of the filmwas unveiled with a much razzmatazz. Director Atanu Ghosh, actors Sudiptaa Chakraborty, Gargee Roychowdhury, Music Director Debajyoti Mishra and Mr. Firdausul Hasan and Mr. Probal Halder also graced the occasion with their presence.
Speaking at the occasion, Atanu Ghosh said: "I have been inundated with calls and texts from everyone telling me how much they are loving the teasers. Mayurakshi is a very mainstream entertaining film from start to finish. I am hoping the audiences will flock to the theatres and love the movie."
'Mayurakshi' brings on two of the greatest names of contemporary Bengali cinema together – Soumitra Chatterjee and Prosenjit Chatterjee – the first time they are coming together in two pivotal roles within a theme which centers around them as father and son.
In that respect, this film is expected to be an unforgettable one. In the modern world, with work pressures and financial woes mounting, isolation and stress becoming an integral part of life, most people believe that father and son bonding is becoming a thing of the past.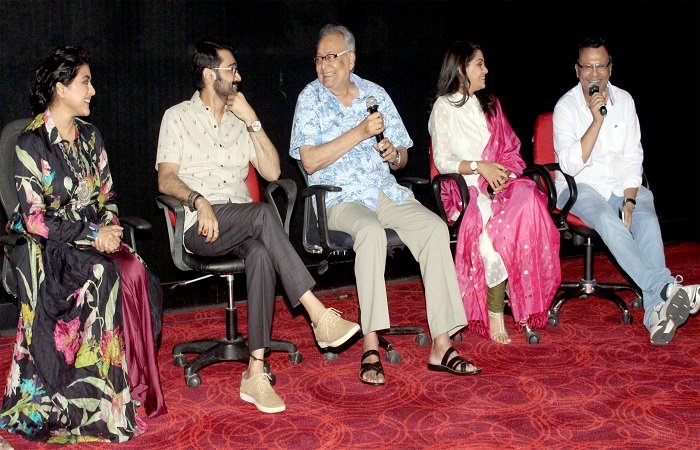 The film is produced by Mr. Firdausul Hasan and Mr. Probal Haldar of Friends Communication.