Joy-Lopa search the infinite through Tagore
Kolkata, Aug 10: It has taken them eight years to come back and do an album together. But it has been a wait worth in gold as—Akash the infinite— holds in its cusp four Rabindrasangeet that explores the infinite within the philosophy of the bard.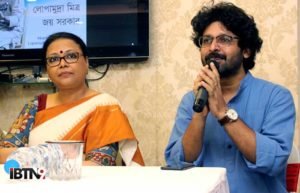 Talking about the album Joy Sarkar said: "Lopa (Lopamudra Mitra) and myself are associated from 1998. So it's been almost two decades that we have been besides each other both musically and otherwise. She loves to sing to my composition, I love to play at her concerts. But we have been doing so much work so diverse that we didn't think of doing another album recently. And that is how this album happened."
The four songs in the album are: Akash Amar bhorlo aloey, Eki labanya purnno prana, Mor bina uthe kon sure baaji and Bohe nirontoro ananta ananda dhara
The last album the duo did together was also a Rabindrasangeet album—Ananda the ecstasy. According to the duo Rabindranath Tagore cannot be understood or fathomed in one life. Similarly his songs have unravelled different meanings at different stages of their lives and hence these four songs that talk about exploring the infinite both within and in this universe.
"This is like a new child that is being born today.  The uniqueness of this album is that it is entirely acoustic based and we had a great time making this album. I love Joy's work and the way we communicate. But more importantly I am honoured that this album is being released by the true celebrity couple in Bengal Sourav and Dona Ganguly," Lopamudra added.
The album has been sponsored by Boroline.
"In today's date and time that a company has come forward to produce this album is also a huge positive for the industry," she added.