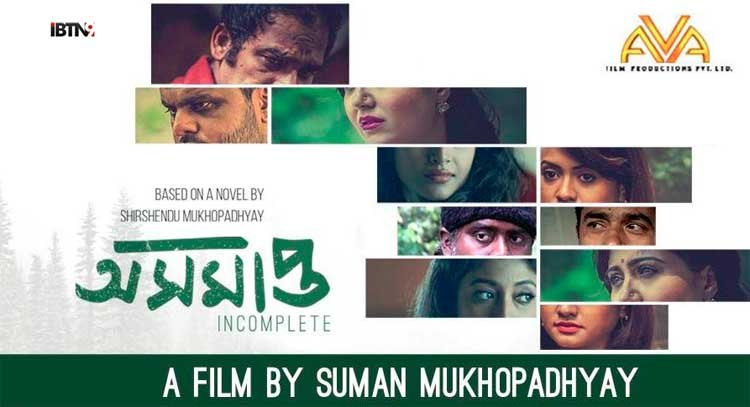 When you see the poster "Asamapta—a film by Suman Mukhopadhyay" you see boxes of incomplete faces overlapping each other forming an intricate maze of unfinished visages that try to express themselves, but can't. The film is, however, much more making it a veritable ballad on celluloid.
Suman travels to the hills to set up the movie and transforms the sombre mountains into a personality alive, breathing, silent. The picturesque Zuluk, the mystic Kolakham and Rishikhola and the majestic Kanchanjungha all come together to tell a story lost in the lines of conifers, revealed in glimpses in the chiaroscuro of light and shade and exposed in the ebb and flow of the vagrant fog and mist.
The story is simple. Indra (Writtik) comes to the hills in search of his childhood and puts up at the place of his college friend Moloy (Bratya) and wife Suchismita, nicknamed Tuki, (Swastika). But here he meets his former love Mitun (Paoli), her husband (Anindya), and sister-in-law Sanatani (Poulami). What happens over the next few days makes for Asamapta a deconstructed version of Sirshendu Mukherjee's Aschorjo Bhormon.
So where is the surprise? It lies in the enigmatic yet tragic portrayal of Tuki, the salvation seeking Indra, sedate and trapped Mitun, outspoken, rebellious Sanatani and the cynical, often vulgar yet vulnerable Moloy. Each one gives a sterling performance getting under the skin of the characters, but Swastika and Bratya are so real that they blend into the story like nature itself.
This movie is as much about finding love as about realising that love flows through the hardest rocks and will invariably blossom from stone to stone like Lali, Chelu's wife. Dibbyendu as Chelu brings to perfection the eccentric philosopher who ties the story together and opens the knots for Indra.
Asamapta is a slow mouldering story of metamorphoses of love in various forms. Any faster than this, the story would lose its meandering ways like the brittle weather beaten tracks of the hills that springs a new story at every bent. Finally, Asamapta is a closure on the daily efforts we make to fathom our lives. A must see.
DIRECTION - 9
CINEMATOGRAPHY - 9
ACTING - 8.5
MUSIC - 8
8.6
A Good Watch
Asamapta is a closure on the daily efforts we make to fathom our lives. A must watch.