'Saheb Bibi Golam' – Bengali Movie Review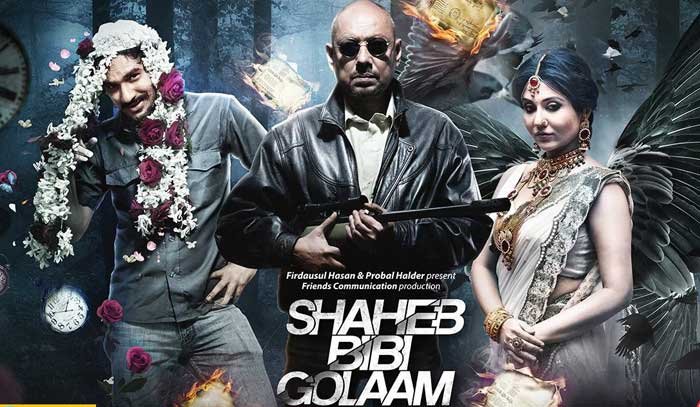 When one reviews the film made by a film critic there can often be stringent yardsticks for conducting the post-mortem; however, with "Saheb Bibi Golaam" we can safely say that before being termed as a film made by a film critic, its essentially a film made by a film lover for the odes in the motion picture are subtle but well crafted.
It is customary for a review to not give out the story but in this case the story is but predictable enough, once the first "chapter" of the film proceeds to its end. Yes, the film has chapters! The title itself gives away the three chapters of the film – Saheb, Bibi and Golaam essayed by Anjan Dutt (Jimmy Luke), Swastika Mukherjee (Jaya) and Ritwick Chakraborty (Javed).
The film opens with the track of Jimmy Luke and we finally see a very different side of Anjan Dutt, something which may have been lying at the bottom of Titanic all this while! He is calm, underwhelmed and manages to essay the pathos of the character extremely subtly. His scene at the altar with his son and daughter-in-law is a reminder of why he needs to act more and direct less. Director Pratim D. Gupta has managed to get a restrained and measured performance out of an actor who once charmed all of us in the films by Mrinal Sen. Ever since, at least according to this film buff, Anjan Dutt has been either over-exposed or completely misutilised. In Saheb Bibi Golaam however, he is back and how!
While Jimmy Luke comes across as a hitman with a heart, he is revealed to have been a police officer whose family suffered due to his call of the duty and yes, filling up of hospital forms in case of an extreme emergency. Jimmy plays the Cello, and each time that happens, the director has managed to remind us of the kind of haunting music that a Wong Kar Wai would have, perfectly reflecting the mood of Jimmy and leading us into the next sequence. Well done PDG on that!
Arindam Sil has a cameo in this film but in one of the most significant sequences, his character reaches out to Jimmy Luke (Anjan Dutt) with a new "assignment". The two actors share screen space and given the recent history between those two individuals, behind the camera; they come up with a stellar performance in that sequence. As someone who wishes only the best for the Bengali industry, this level of professionalism is solicited and both Arindam Sil and Anjan Dutt deserve our respect for the same.
Coming back to the narrative of the film, we get to meet Zico (Vikram Chatterjee) who is the son of a Minister of the State Government and is a notorious, spoilt brat to say the least; who can't seem to keep what's between his legs, in check!! The minister, played by Sumanta Mukherjee, gives Jimmy a new target which he refuses as it's a woman. Ethics, Bravado on one side, Chauvinism on another?
In these two sequences the story of the film is well understood and the audience is left to wonder what role would Swastika and Ritwick be left with? When the hitman miscalculates his shot, the fatally wounded man falls in Bibi's arms and then we move to Jaya's (Swastika's) track.
What an actress Swastika Mukherjee has evolved into! Her complete homely demeanour as Jaya and thereafter the flair of 'Shuktara' of the Housewives' Club is a range which perhaps no other actress from the current lot would have been able to portray. She is bold, beautiful and uninhibited in her role and the scene of her break down under the shower deserves a special mention in this case. Her pact with her closet-gay husband is another subtle turn in the narrative which could have been a major track by itself but it shows the restraint with which the director has honed this story.
When it's time for the chapter of Golaam, Ritwick Chakrabarty as Javed, the taxi driver, steals the show completely from everyone else. He falls in love with Rumi, a girl who he drives home regularly from the disco after she's completely drunk and in fact races another cab driver to the venue just to be able to give her the ride back before anyone else. The girl is clearly "out of his league" but he eventually wins her over with his charm and honesty. Parno Mittra as Rumi is very refreshing to watch as we can clearly see how well she has evolved as an actress. The way Javed spends his days and nights in front of Rumi's Salt Lake home, Bollywood would certainly have made a love song for the sequence and perhaps the way we got "aaj din chadeya" by Rahata Fateh Ali Khan in Love Aaj Kal; but Pratim D Gupta walks a different route and keeps it more realist. The moments Javed and Rumi have together across Kolkata are fresh perspectives of the city we love. In fact, the director very wittily had Javed say "eta Delhi na, chinta nei" (this is not Delhi, no need to worry) when he was about to drop a drunk Rumi home.
Then comes the episode of the rape case and while the build-up in the narrative for the same is "heinous crime on Bypass in front of everyone" when the crime is actually shown, the girl takes a detour off the bypass and the man rapes her in a secluded area where clearly there is no one who could witness it close to midnight on new year's eve. No prizes for guessing, the man is Zico (Vikram) and this becomes a media controversy but we don't know how!
What happens next is for you to visit the theatres and find out!
The scenes between Swastika Mukherjee and Vikram Chatterjee are really bold and something that Bengali movies have by and large shied away from. Kudos to Pratim D Gupta for going through with it.
Vikram Chatterjee has managed to surprise us all who in the past have seen him getting type-casted as a lovable, affable guy. And dare I say, he should do more roles like this one than the ones he has been doing as he seemed completely natural and at ease playing this negative character which certainly marks the class of a good actor!
The film is full of cameos and therefore some were good and some went to waste! Sohag Sen as the owner of the Housewives Club does a good job and Shataf Figar as a client provides a good comic relief. Ajopa Mukherjee who does costumes for Swastika, her sister, does a cameo in this film but almost in a blink and miss situation. Arindam Sil's cameo is well etched out and reflects why he too is missed as an actor. Sudip Mukherjee's cameo as the city's police commissioner is sadly a waste of his talents and that role could have been done by anyone else! Aparajita Ghosh's cameo as Hospital staff member is absolutely forgettable but well-acted. Neel Adhikary's cameo as Jimmy Luke's son is wonderful and surprising.
Speaking of Neel Adhikary, he has done a great job with the background score of the film while Anupam Roy has done a good job with the music and songs in the film. "Mon Bhaalo Nei" deserves a special mention alongside "Tomar Shohore" by Anjan Dutt.
Camera work by Gairik Sakrar is very good and editing by Sanjib Datta is absolutely on the mark! Costumes, Production Design are all great too. Technically it's a really strong film.
Overall it's a good watch and in his second outing as Director, Pratim D. Gupta has proven that he is here to stay! Special mention also to the producers of the film – Firdausal Hasan and Probal Haldar of Friends Communication for backing this film.
Pratim D. Gupta has successfully heightened our expectations for his third film.
Reviewed by: Annesh Bilas Thakur
Saheb Bibi Golaam – Cast & Crew
Director: Pratim D. Gupta.
Produced by: Firdausal Hasan and Probal Haldar (Friends Communication).
Running time: 2 hrs.
Cinematography: Gairik Sarkar.
Editor: Sanjib Datta.
Music: Anupam Roy.
Background score: Neel Adhikary.
Cast: Anjan Dutt, Swastika Mukherjee, Ritwick Chakrabarty, Parno Mittra, Vikram Chatterjee, Arindam Sil, Sohag Sen, Shataf Figar and others.
DIRECTION - 8
ACTING - 8
CINEMATOGRAPHY - 8
MUSIC - 7
EDITING - 7
7.6
A Good Watch
Overall, it is a good watch and in his second outing as director, Pratim D. Gupta has proven that he is here to stay! Special mention also to the producers of the film – Firdausal Hasan and Probal Haldar of Friends Communication for backing this film.