The City of Joy was introduced to a fascinating world of wood and brass as lifestyle destination, BASIL: THE FURNITURE STORE was launched at 33A LAKE AVENUE, KOLKATA 26 through an interactive walk through in its House of stories by the elegant muse Nina Saxer and owner Prakash Mehrotra.
Guests were introduced to beautiful and handcrafted teak and driftwood lifestyle furniture and curios over wine and appetizers as they had a tête-à-tête with Prakash and Nina while walking through the colonial rooms of Basil and admiring its various artefacts.
With a price range that starts from Rs 1,500 and can Rs 60,000 over a piece of wardrobe or bed, Basil believes in giving customers their money's worth, thus nothing at Basil is run of the mill, but rather boutique pieces, each of which have their own stories to tell and can last a lifetime.From beautiful driftwood sofas to delicate Elm cupboards that have been hand painted in gold or carved Indonesian lions in brass, Buddha and his original five disciples in wood or a resplendent brass Nandi at the entrance, House of Stories at Basil was a fantastic world of creativity and taste.
Basil deals exclusively in various types of teak wood, from the delicate elm to the sturdy sal and sources inspiration and pieces from interiors of Rajasthan as well as South-East Asia save China and Malaysia. From coffee tables made from intricately carved wood to elm wood cases that are both eye-catching and delicate to sofas made of drift teak wood, the wares on display at Basil embody beauty in its finest forms.
Present at the launch were eminent personalities Sujoy prosad Chatterjee, Satrajit Sen, Indroneel Mukherjee, Pranay Baidya and Corrina among others
Speaking at the launch, muse Nina Saxer said, "It is a wonderful place and beautifully encompasses the intricacies of carving. In fact, some of the pieces at my own home have been sourced from this very store. The furniture here is an eclectic mix of curios, lifestyle products and antiques and antiquities."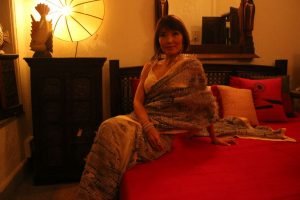 Owner Prakash Mehrotra went on to add, "Basil is meant for people who have an aesthetic sensibility. Dealing exclusively in various types of teak wood and driftwood, I source my inspiration and pieces from the interiors of Rajasthan as well as South-East Asia. But Basil is much more than just a store. My vision through it is to heighten the artistic sensibilities of people and make the City of Joy understand and appreciate the beauty and art in wood."
Basil: The Furniture Store is Prakash's second store in nine years, his first one being at Alipore. While his original showroom has gothic undertones to it, Basil at Lake Road is more Victorian in its sensibilities and obviously Colonial in its architecture. Housed at the ground floor of an old South Kolkata house, Prakash has created a fantastical world where on entering the doors, one is transported into a bygone era far removed from the maddening crowd outside. The outside of the showroom is done in Mustard yellow and has a very Spanish feel to it.
 The interiors of the showroom are artistically done. Prakash has let the original marble flooring in place, which adds to the Victorian charm of the place while low lightning (each his own creation), paired with teak wood doors and windows, colonial rooms and artfully done walls add a poignant feel to Basil.