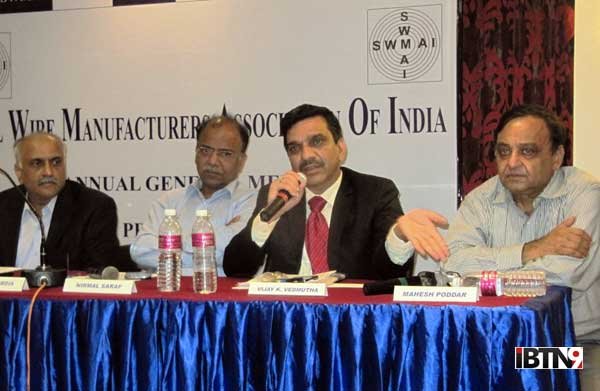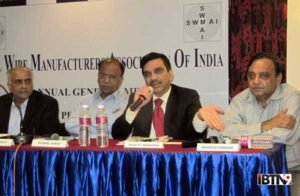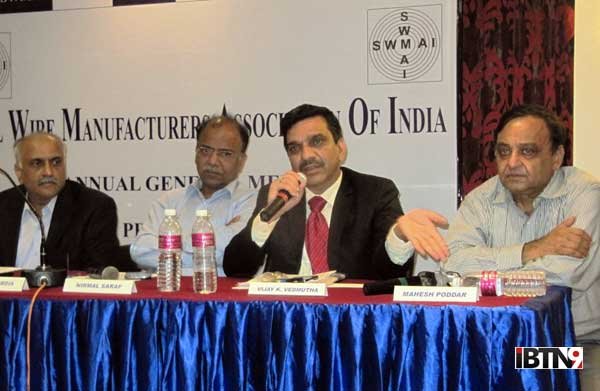 October 1, 2015 (Kolkata): Addressing the Press on the eve of 45th Annual General Meeting of the Steel Wire Manufacturers Association of India (SWMAI), at Kolkata, the newly elected Chairman of the Association, Mr. Vijay K Vedmutha, urges the Government that the Customs Duty on raw material for the Industry, i.e., Wire Rods, should be reduced to zero per cent. This will enable the steel wire industry to get raw materials at globally competitive prices. They can then add value to it and cater to the Domestic and International demand for Steel Wires.
He pointed out that the Industrial growth in developing economies is a major growth driver for the steel wire industry. Infrastructure expansion and higher disposable incomes leading to greater ownership of consumer durables and automobiles are major factors driving growth in the developing economies. There is a plethora of growth opportunities for Indian steel wire market. Rapidly expanding construction, infrastructure, telecom and manufacturing industries bode well for the Indian steel wire market. Low oil price would also act as a factor to generate overall positive net impact on growth.
While opposing the proposed Steel and Steel Products' (Quality Control) Order, 2015,    Mr. Vedmutha said that the Indian Steel Wire Industry (under the broad category of engineering industry), comprising mainly the MSME sector, will be seriously hurt upon implementation of Ministry of Steel's proposed Steel and Steel Products' (Quality Control) Order, 2015. Cost of steel inputs will sky rocket, making the products of these units non-competitive. Many units will have to discontinue business and put growth plans on hold. These units will be denied superior quality materials as per widely accepted international standards such as AISI, SAE, JISG, GOST etc., at internationally competitive prices. They would neither be able to compete in the international market nor counter the threat of cheap imported engineering goods. The vision of making India the Factory of the world cannot be realized unless Quality Inputs to Industry are available at internationally competitive commercial terms. He further stated that the proposed Quality Control Order should not be used as non-tariff barrier for imports. Such a move would leave the steel user industry at the mercy of a few selected domestic steel makers.
Mr. Vedmutha also pointed out that the Government's decision to impose 20 per cent safeguard duty on select steel items (HR Coils) has created much more problems for the steel user industries. Such a move on long steel items will further accelerate the input costs for the steel user industry, like ours, and will make our country uncompetitive. That is why Indian Steel Wire makers and many foreign companies, who are looking to invest in India for manufacturing Wire and Wire products, have put their investment plan on hold and are looking at other options like Thailand, Vietnam, Indonesia, Sri Lanka etc., where the duty on import of Wire Rods is nil. This will be totally against the wish of our Hon'ble Prime Minister's "Make in India" programme.
Moreover, the Finance Ministry has not revised the duty drawback rates for the exporters of downstream engineering products. All exporters of engineering products do not use advance authorizations. Many of them buy smaller quantities from the market and execute their orders. With higher costs of their inputs, they will not be able to compete unless duties on raw materials are reduced or their duty drawback rates are revised.
The Chairman of the SWMAI has emphasized the inadequate Supply of quality raw materials (Wire Rods) for the Steel Wire Industry and to ensure greater availability of wire rods he urges the Government to rationalise the Customs Duty Structure and give a boost to the growth plans of the Steel Wire Industry.
He also demanded that the customs duty on imported advanced technology machinery for the Steel Wire Industry should be zero per cent to enable the Indian Steel Wire Industry to implement modern technology and bring world class efficiency. As a result, the Steel Wire Industry in India will be competitive in terms of cost and technology and instead of importing wire and wire products; India can be a major exporter of such products to meet the global requirements.