Durga Puja goes on African Safari in Kolkata
One of the popular Durga Pujas of Central Kolkata that one must visit is the Mohammad Ali Park Durga Puja that is held every year and showcases magnificent architecture which was inaugurated by Mr. Keshari Nath Tripathi, Hon'ble Governor of West Bengal along with the presence of various eminent personalities like Mr. Sudip Bandyopadhyay, Member of Parliament; Mr. Dinesh Bajaj, Chairman Md. Ali Park Durga Puja; MA Zhanwu, Consul General of China & many others.
Since its inception the Mohammad Ali Park Durga Puja Samity has tried to bring out several replicas of monuments – explored and unexplored – from all over the world… and diorama of ancient literature.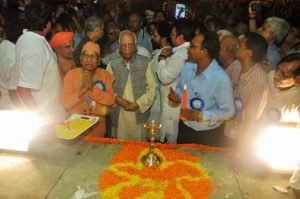 The samity, even though it follows the changing trend of architecture and style, has preserved its age old culture and tradition, which reflects through the artistic work. The interior and exterior decoration of the Pandal that details the theme is always a treat to the eye. As its name suggests, this pandal is located in a large park & the venue further features a simple illumination but the entire park area decks up with dazzling and colorful lightings. This year Md. Ali Park has come up with another magnificent form of pandal, under the banner of Youth Association.
Human being, though a socialised animal finds happiness to capture other living being and destroy its freedom. From Pre-historic age this custom has become an inheritance property of mankind. We love to capture birds and put behind cages and attain in human happiness from it, we never think of the disaster we are creating ahead of us. We are destroying the ecological balance and inviting danger to mankind.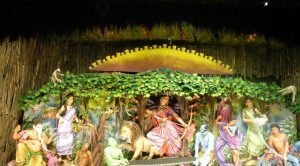 This year Youth Association of Md. Ali Park with the conception of Md. Bapai Sen brings forward an unimaginable theme which represent the earnest request from the birds to give them freedom. It is highly necessary to keep the Indian birds free and not to snatch their freedom. Africa is chosen as a theme because this continent has great diversity. It allows the birds to live in the vast green. The mandap will be decorated with green plants and trees with exotic birds displaying their wings and colours. Our mission will be fulfilled if we can educate at least one person to leave the birds in their own way so that the world becomes the most beautiful place to live.
Shri. Pramod Chandak, General Secretary of Md. Ali Park Durga Puja said, "Our main goal is to set an example of unity in diversity by organizing Durga Puja at Md. Ali Park. This can only happen in India and every year we all strengthen our unity spirit by celebrating the puja of Maa Durga in a huge manner."
The Mohammad Ali Durga Puja Samity has won several awards in different categories and hence it is also considered as one of the prestigious Durga Puja in Kolkata which is organized by the Youth Association. Youth Association was established in 1969. This is one of the most prestigious clubs of North & Central Kolkata. In the past few years Md. Ali park emerged with new thoughts and has generated tremendous interest in the mind of the viewers.